Let's face it – takeout is inevitable! Yes, we want to eat more at home to save money, but sometimes we just need that convenience (or just plain comfort and happiness!). So how about we stop feeling guilty about it and take a few small steps to making our takeout experience more deluxe? The easiest way to do that in my opinion? Add fruits and vegetables!
As a whole, many of us aren't getting enough fruits and vegetables in our day. So by adding them to our takeout plate, not only can we enjoy our favorite restaurants, we can also make sure we're one step closer to our daily fruit and veggie recommendations! An easy way to think about it is by following MyPlate. Focus on all your meals to be half plate fruits and vegetables – fresh, frozen, and canned all count!
Ordering pizza? Maybe add peppers, onions, mushrooms, PINEAPPLE (yes, I'm team pineapple pizza!). Chinese food? Keep a bag of frozen broccoli on hand and steam it up to accompany your orange chicken! Tikka Masala anyone? Sprinkle some golden raisins for extra sweetness (and a serving of fruit)! My favorite (and easiest) way to make any takeout more deluxe is by adding spinach! Just grab a handful of spinach and mix into the already hot food for a quick serving of veggies!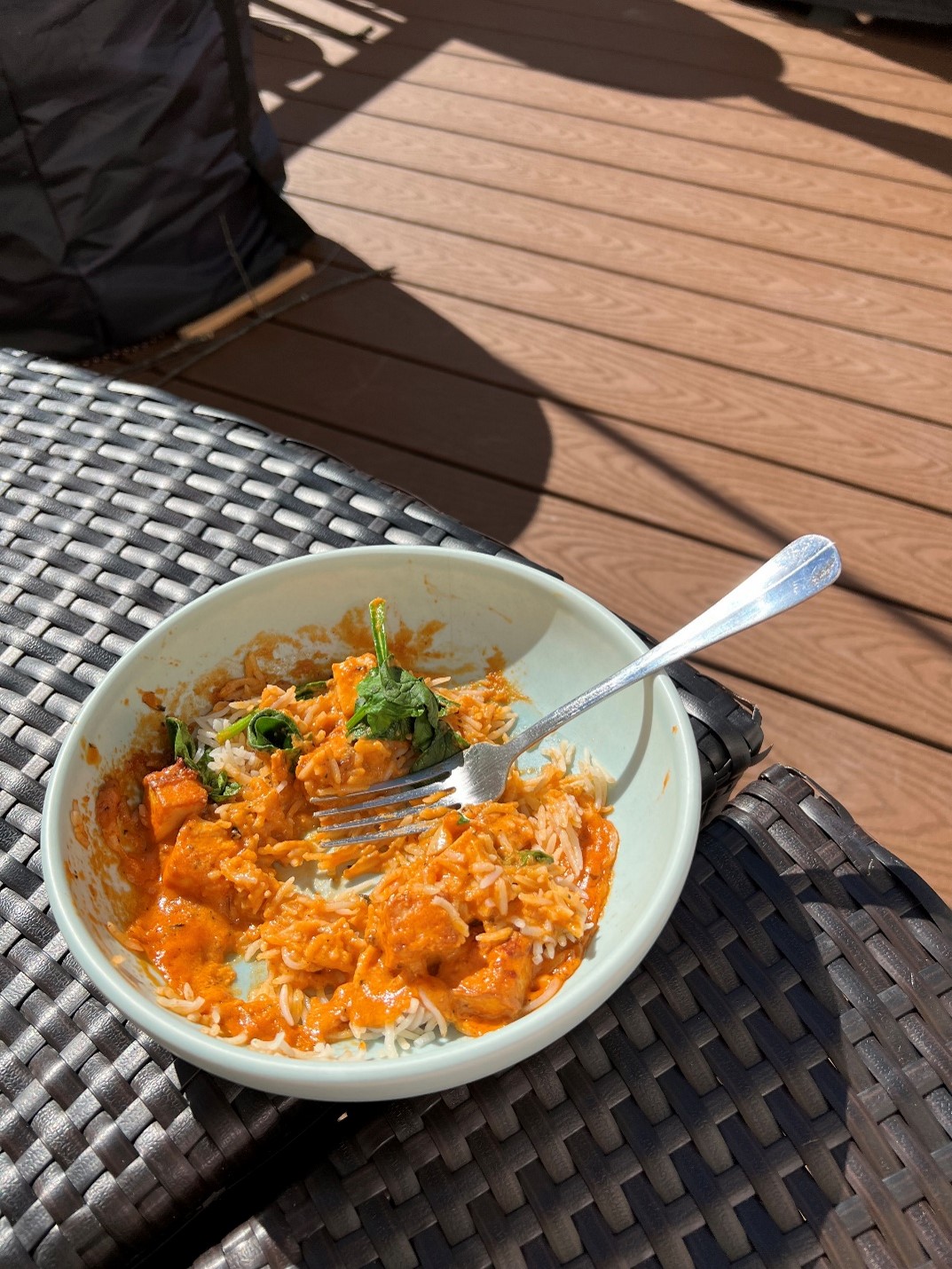 (My half-eaten Paneer Korma – so good that I forgot to take a picture before digging in!)
Now if you do have some time to whip up your own version of takeout favorites, here are some of my favorite, veggie and fruit loaded, recipes!
Chicken Tikka Masala with Veggies
Whole Grain Crust Veggie Flatbreads
Couscous and Chickpea Salad with Za'atar
So whether it's eating at home or takeout, just remember to Have A Plant! For more recipe ideas, be sure to follow us on TikTok at @healthylivingbygiant!