The Mediterranean diet is very popular and it's no wonder considering it was ranked as one of the top diets (#3 to be exact) for 2015 by U.S. & World Report earlier this year.  A Mediterranean diet incorporates the basics of healthy eating–that means lots of fruit and veggies and adds healthy fats (think olive oil).  It also uses lots of herbs and spices in place of salt to flavor your meals.  Research shows that the Mediterranean way of eating reduces the risk of heart disease.  A study of more than 1.5 million healthy adults following this diet were associated with reduced risk of death from heart disease, cancer, as well as a reduced incidence of Parkinson's and Alzheimer's diseases.  With these stats, it's not surprising more people are taking a second look at eating the Mediterranean way.
Thankfully, it's not difficult to start incorporating this diet into your own daily routine.  You don't have to run out and buy special food or "gimmicky" products.  Here are the key components of the Mediterranean diet:
Eat primarily plant-based foods such as fruit, vegetables, whole grains, legumes and nuts.
Replace butter with healthy fats like olive oil.
Use herbs and spices instead of salt to flavor food.
Limit red meat to no more than a few times a month.
Eat fish and poultry a few times a week.
Drink red wine in moderation (optional).  *Note–research shows that red grape juice provides many of the same benefits if you prefer to avoid the alcohol.  Just make sure it's 100% juice.
Incorporate physical activity to your daily routine.
I've pulled together a few examples of Mediterranean dishes to help give you an idea of what to be looking for in recipes.  These Caprese Style Portobellos are great for an appetizer if you're using smaller sized caps or can be served as an entrée if you opt for larger sized mushrooms since portobellos are quite filling.  This particular version is prepared in the oven, but I'll bet you can also do this on the grill (just watch out for burning the fresh mozzarella).

Photo courtesy of Proud Italian Cook
Nicoise Salad is a perfect example of Mediterranean style eating.  This main entrée salad is also ideal for the warmer weather months we are entering.  This salad combines fresh greens, tomatoes, green beans and potatoes with heart healthy fats and lean protein like fish, white beans and kalamata olives.  The homemade dressing is prepared with olive oil, lemon juice, herbs and spices.  Once you try this recipe you'll want to add it to your favorites.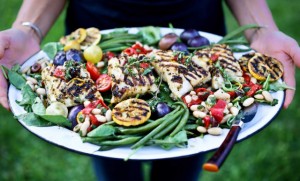 Photo courtesy of Feasting At Home
Perfect as a side dish or a light lunch, Tabouleh is a wonderful fresh option.  Packed with loads of flavors and textures, I'm always surprised at how much a healthy dish can fill me up.  It's due to the fiber of the bulgur and veggies.  This is a great lunchtime option to get you through a long afternoon (read: no sugar cravings!).

Photo courtesy of No Recipes
Enjoy and if you're a fan of olive oil, next week I'll share a recent trip to one of Napa Valley's largest olive estates.
See all posts