During the winter months we rely heavily on root veggies as a fresh vegetable.  One root veggie that is nutritious, delicious, and versatile is the turnip.  Turnips can be eaten both raw and cooked and come in many shapes and sizes.  They are fat free, cholesterol free, low in sodium and, surprisingly, an excellent source of Vitamin C.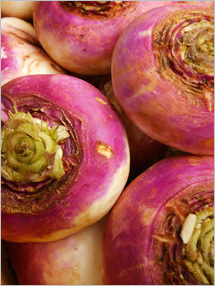 Courtesy of Fruits & Veggies–More Matters
Turnips are popular substitutes for potatoes since they are similar in texture, yet they are lower in calories.  Turnip Gratin is a recipe that you'd typically associate with using potatoes.  Garlic, Gruyere cheese, cream, chicken broth, and herbs are added to the turnips to create a creamy, layered casserole.

Courtesy of The Pioneer Woman
You can (and should!) roast turnips as you would any other root veggie.  Roasted Turnips with Balsamic Vinegar is a simple, yet delicious dish that combines diced turnips with a dressing made from olive oil, balsamic vinegar, dried thyme, salt, and pepper.  You'll roast the turnips on a baking sheet for about a half hour, stirring them part way through the baking process.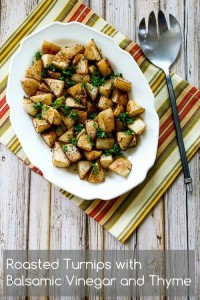 Courtesy of Kalyn's Kitchen
Turnip Pesto Pasta with Artichoke Hearts and Kale is an unusual way to use turnips.  You'll spiralize the turnips (see my earlier blog on the popularity of spiralizing veggies) so they resemble "noodles" and add a pesto sauce, kale leaves, artichoke hearts, and some pine nuts.  The result is a flavorful vegetarian meal.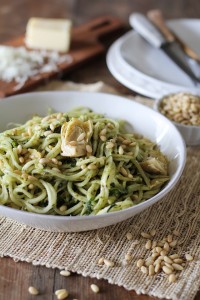 Courtesy of The Roasted Root
Fruits & Veggies–More Matters has even more ways to enjoy this wonderful root veggie.  Mashed, added to a coleslaw or using turnip greens–you'll love their Top Ten Ways To Enjoy Turnips.  I'll return next week with a little sunshine for your winter days with some ideas for using grapefruits–one of the season's most plentiful citrus fruits.
See all posts