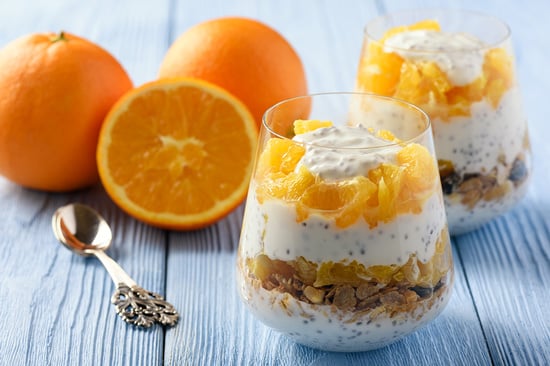 A Fruit-FULL Dessert! Add peeled, sliced oranges and grapefruit, orange marmalade, and vanilla extract. Serve topped with low fat lemon yogurt and shredded coconut. Recipe: Ambrosia.



Orange Salsa. Grilled fish or chicken topped with orange salsa is sure to be a success! Combine orange peel, chopped oranges, tomato, cilantro, green onion, walnuts, and lime juice. Spoon over fish or chicken.



Warm Your Day. Eating oranges added to oatmeal is a great way to start your day. Recipe: Heart Warming Oatmeal w/ Fruit and Nuts



Try an Asian-Inspired Chicken Wrap. Sauté chicken, bell peppers, onion, garlic, and ginger in a little lemon juice, brown sugar, sesame oil, and soy sauce. Stir in chopped orange pieces and serve wrapped in iceberg lettuce leaves.



Make fruit kebobs! Add peeled orange wedges, strawberries, cantaloupe, grapes, bananas, and pineapple onto a wooden stick. Dip kebobs in chocolate pudding or low fat fruit yogurt and enjoy.



Spice Up Your Fruit Salad. Be sure to include oranges in your next fruit salad. Mix orange slices, mango, and strawberries with a sprinkle of chili powder, a dash of fresh squeezed lime juice, and honey. Serve topped with low fat yogurt. Recipe: Healthy Fruit Salad.



Orange Lemonade! Does your orange juice need a tangy twist? Try making orange lemonade! Combine freshly squeezed orange and lemon juice, water, sugar, and fresh orange and lemon slices in a pitcher. Mix well and chill. Pour over ice for a refreshing mid day pick me up.



Add to Salad. Add oranges slices, strawberries, and walnuts onto a bed of your favorite field greens for a salad that's sure to please.



Popsicles … for Springtime or Anytime!
Try making orange popsicles. Dissolve orange gelatin into orange juice and water, and pour into popsicle molds or small plastic drinking cups. Freeze until hard. If you use plastic drinking cups, freeze until firm, insert popsicle sticks, then freeze completely. For some new orange combinations, use different flavored gelatin mixes.


Slice It or Just Peel and Eat!
Whatever your favorite way to eat an orange is, just take a bite into this delicious citrus fruit.



See Videos About Oranges
See Nutrition Information for Orange
Fruit & Veggie Database
Key Nutrients in Fruits & Veggies
Dietary Guidelines for Americans
Fruit & Vegetable Recipe Search