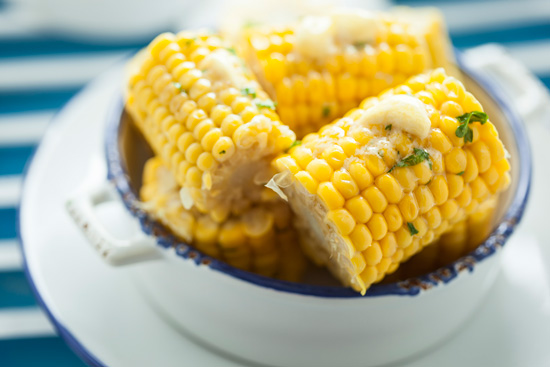 Beef Up Your Soup! Adding corn to soup, whether it's chili or chowder, enhances the soup's hardiness, as well as its nutritional profile. Try this quickie: Quick Fish Chowder



Add a Little Crunch to Your Guacamole. Add corn kernels and diced tomatoes to guacamole or salsa.



Corn in Cornbread? Imagine That! For a little different texture, add corn to your cornbread or corn muffins.



Relish Your Corn. Make a corn relish to serve as a side dish or salad by combining chopped vegetables and beans mixed with vinaigrette. Try this: corn, chopped red onion, chopped red and green peppers, pinto beans and tomatoes.



Say Cheese!These Cheesy Corn Potatoes will put a smile on your face.



Perfect in Dips, Sides, or Toppings! Try our Roasted Corn Salsa. It's great with low-fat tortilla chips, as a side to grilled meat or as a topping for your burger. Roasted corn kernels are also great in quesadillas!



A Taco Salad without Corn? No Way! Here's a Taco Salad that will take you south of the border.



A Healthy Sauté. Sauté cooked corn in a small amount of oil with green chilis and onions. Served hot, this makes a wonderful side dish.



Quick Corn for Lunch? Microwave It! Open husk but do not remove leaves. Remove silk and wash the corn kernels. Close leaves around corn and microwave for 1-2 minutes until cooked.


Veer from the Usual Ear. Sprinkle your corn-on-the-cob with a little Parmesan cheese or some of your favorite herbs and spices, such as chili powder, parsley, and chives. Here's another idea … try our Corn on the Cob with Chili-Lime Butter.



See Videos About Corn
See Nutrition Information for Corn
Fruit & Veggie Database
Key Nutrients in Fruits & Veggies
Dietary Guidelines for Americans
Fruit & Vegetable Recipe Search