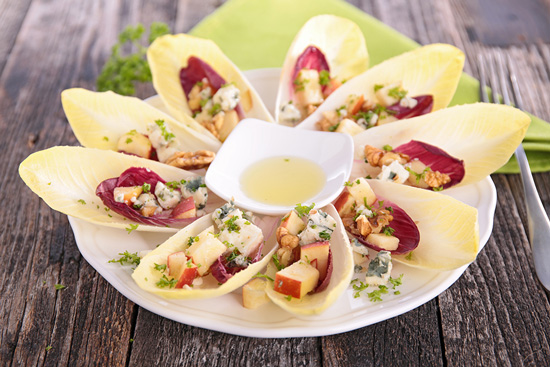 The Endive Dipper! Replace crackers with endive leaves and enjoy with tuna salad, chicken salad, or any of your favorite vegetable dips. Try them with our Carrot Tuna Vegetable Dip.



An Appealing Appetizer. Place endive leaves in a circular shape (make 2 layers) and top with grapes and walnuts. Drizzle light vinaigrette on top and you're done! Your guests will thoroughly enjoy.



Endives Instead of Lettuce. Anywhere you would put lettuce you can put endive leaves! They're great on top of deli sandwiches or panini … or in this Corner Kick Pita Pocket.



Turbocharged Stir-Fry. Easily increase vitamins and minerals by adding endives to your favorite stir fry. Check out our stir-fry video to see how easy it is!



Julienne Them. Slice the endive in thin strips and add to any of your favorite salads.



Great on the Grill. Brush each endive with olive oil then grill until browned and slightly wilted on grilled side. Top with balsamic vinegar, extra virgin olive oil, salt and pepper and toasted walnuts. This is a great healthy side dish to add to any meal.



Sautéed. Sauté endives in olive oil. Add a squeeze of fresh lemon and salt and pepper to flavor. This is a perfect bed for salmon or another grilled fish.



Soup du Jour. Try adding Belgian endives in place of cabbage and other chicory vegetables to any of your favorite soup recipes!



The Endive Bake. Place halved endives on a baking sheet, brush with a small amount of butter and top with a low-fat cheese and nutmeg. Bake at 400° F until lightly browned (about 10 minutes).


Ceviche. Instead of traditional ceviche made with seafood try our Artichoke Ceviche in Belgian Endive recipe.



See Videos About Belgian Endive
See Nutrition Information for Belgian Endive
Fruit & Vegetable Nutrition Database
Key Nutrients Found in Fruits & Vegetables
Dietary Guidelines for Americans
Recipes: Fruit & Vegetable Recipe Database