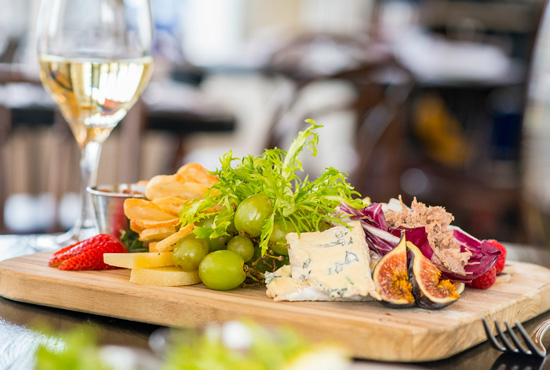 Pairing cheese and yogurt with fruits and vegetables is just one way to make produce more appealing! Here are some ideas:



Go savory. Add your favorite savory sauce to Greek yogurt and serve as a dip with a vegetable platter! Try pesto, bar-b-que sauce, or sriracha for tasty combinations with the benefit of added protein.



Skewer it! Thread cubes of cheese with fruit like strawberries and blueberries onto a skewer or toothpick for a kid-friendly snack.



Get baking! Add Greek yogurt and shredded vegetables like carrots and zucchini to your next batch of muffins or quick bread.



Just add eggs. From frittatas to quiche, from omelets to egg sandwiches – use your favorite veggies and cheddar for a healthy meal.



Have a pizza party! Load up your pizza (or simply a pita) with tons of your favorite veggies and then top with cheese for a family-friendly dinner.



Make a mashup. Try adding plain yogurt to your mashed potatoes or some cinnamon and vanilla yogurt to roasted squash or pumpkin for a kid-friendly side dish.



Soup's on! Add plain yogurt to homemade soups, stews, or curries made with vegetables like sweet potato or cauliflower for a creamy, added-protein punch!



Simple Pairings! Fresh tomatoes and basil go well with mild cheeses like ricotta or mozzarella; tart fruit like green apples pairs well with semi-soft cheeses like Colby or Monterey Jack; pears, berries, and dried fruit pair well with bloomy rind cheeses like Brie.



Dress it up. Mix yogurt and salsa to create a simple dressing for a Mexican-inspired burrito salad. Want some added spice? Try adding some shredded Pepper Jack as a topping!


Think beyond the crust – and reach for a bowl of apple pie! Creative combinations with Greek yogurt can save calories and provide a sweet treat without the guilt. Warm a sliced apple, sprinkled with a little cinnamon and sugar, and serve over a bowl of Greek yogurt and granola.
Sponsored By


Fruit & Veggie Database
Key Nutrients in Fruits & Veggies
Dietary Guidelines for Americans
Fruit & Vegetable Recipe Search