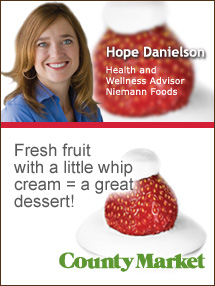 With the holiday season in full swing it's sometimes hard to stick to a healthy lifestyle. We all want to be able to enjoy the holidays and still fit into our favorite jeans by New Year's!
10 Ways to Make Your Holidays a Little Healthier
Try spraying your pans with nonstick cooking sprays instead of using butter or margarine.
Use spices and fresh herbs to add flavor.
Use low-fat meats such as skinless turkey and chicken breasts.
Fill most of your plate with fruits and vegetables and choose smaller portions of your "not so healthy" favorites.
Use low-fat cheeses.
Make healthy vegetable dishes so you have something nutritious to fill up on.
Try using applesauce in baking (substitute ½ cups for ½ of the fat).
Fresh fruit with a little bit of whip cream makes a great dessert!
Use chicken broth to flavor your mashed potatoes instead of butter.
Make whole grain dinner rolls; they have more fiber.
Lasagna for Christmas?
Turkey for Thanksgiving. Ham for Easter. How about lasagna for Christmas? It's great to have something a little different than the usual. This recipe for spinach lasagna is healthy and delicious. Plus it's green and red. How festive is that?

Recipe
Spinach Lasagna
Serves 12

1 (9oz) package of lasagna noodles
2 eggs
1 container (15oz) reduced-fat ricotta cheese
4 cups (16oz) reduced-fat mozzarella cheese (divided); 1/2 cup (2oz) grated Parmesan cheese
1 box frozen spinach (thawed and drained well) OR fresh baby spinach
2 jars marinara sauce

Directions

Preheat oven to 375° F.
Spray baking pan (13x9x3 inches deep) with non-stick cooking spray.
Remove lasagna sheets from box. DO NOT BOIL.
In medium bowl, beat eggs. Stir in ricotta, 2 cups of mozzarella and the Parmesan.
Spread 1 cup of sauce on bottom of baking pan.
Layer 4 uncooked lasagna sheets, ⅓ of ricotta mixture, half the spinach, 1 cup of mozzarella, and 1 cup of the sauce.
Layer 4 uncooked lasagna sheets, ⅓ of ricotta mixture, and 1 ½ cups of sauce.
Layer 4 uncooked lasagna sheets, the remaining ricotta mixture and spinach, and 1 cup of sauce.
Layer 4 uncooked lasagna sheets, the remaining sauce, and remaining 1 cup of mozzarella.
Bake, covered with foil until bubbly, 50-60 minutes.
Uncover and continue to bake until cheese is melted, about 5 minutes.
Let stand 15 minutes before cutting.

Serve with a fresh green salad.
Hope Danielson
Health & Wellness Advisor
Niemann Foods
Fruit & Vegetable Recipes
Video Center: Selection, Storage, and Preparation of Fruits & Vegetables.