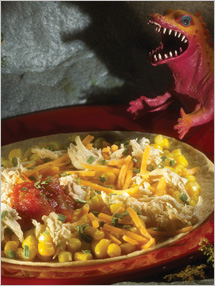 Preparation time: 20 minutes

2 seconds
butter-flavored cooking oil spray
1 (6-inch) flour tortilla
1½ tablespoons mild salsa
½ cup frozen yellow corn, cooked
1½ tablespoons cooked chicken breast, shredded
1 tablespoon cheddar cheese, shredded
½ teaspoon dried chives
Instructions: Preheat oven to 400° F.
Cook corn according to package instructions.
Spray cookie sheet with cooking oil. Place tortilla
on oiled sheet. Top with chicken, cooked corn, cheese, chives, and salsa. Bake for 10 minutes.
Cut in quarters and serve.
Serves: 1


½ Cup of Vegetables per Serving


Fruit and/or Veggie Color(s):
Red, Yellow [
What's This?
]
Nutrition Information per serving: calories: 257, total fat: 7.6g, saturated fat: 2.4g, % calories from fat: 26%, % calories from saturated fat: 8%, protein: 12g, carbohydrates: 38g, cholesterol: 19mg, dietary fiber: 4g, sodium: 441mg
Each serving provides: A good source of vitamins A and C, folate, calcium and fiber.
Recipe was developed for Produce for Better Health Foundation by Chef Mark Goodwin, CEC, CNC. This recipe meets PBH and Centers for Disease Control & Prevention (CDC) nutrition standards that maintain fruits and vegetables as healthy foods.
Recipe from the Cool Fuel for Kids cookbook.

See More Kid-Friendly Recipes
Search All Our Fruit & Veggie Recipes