Now that we're entering the fall season, I like to spend more time in the kitchen.  Growing up, my mother made it a tradition to have big Sunday dinners from late September through mid-May–this timing coincided with our time home from the beach.  Sunday dinners were different than any other night.  We'd eat in the dining room and mom made something extra special.  I tried to carry that tradition on (minus the eating in the dining room–I save that for the big events) and prepare a special meal on Sundays during the cooler weather months.  One problem with some traditional Sunday dinner menus is that they tend to be high in calories and fat.  I've got some great recipes that are healthy, while retaining all the flavor you love.
Chicken Stew with Butternut Squash and Quinoa is a hearty fall dish that's filled with good things like winter squash, tomatoes, Kalamata olives, onion, quinoa, and lots of herbs and spices.  This recipes calls for chicken thighs, although you can use white meat chicken if you prefer.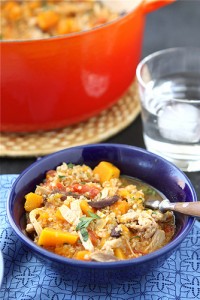 Courtesy of Cookin Canuk
Shredded Brussels Sprouts and Chunk Apple Saute with Pork Tenderloin is a recipe from Fruits & Veggies–More Matters.  You'll make this dish in one pan, combining shredded Brussels sprouts, chopped apples, chopped onion, seasoned pork tenderloin, raisins, honey, and cider vinegar.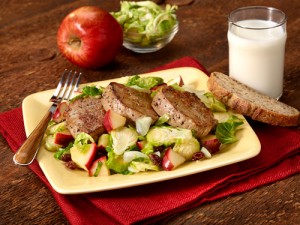 Courtesy of Fruits & Veggies–More Matters
Roasted Brussels Sprouts, Potatoes, and Chicken from Fruits & Veggies–More Matters is definitely a comfort dish.  Chicken breasts, Brussels sprouts, red potatoes, onion, and garlic are covered in a sauce made from ricotta cheese, mozzarella cheese, parmesan cheese, and non-fat milk.  The chicken and veggie mixture is baked (covered) about 45 minutes until chicken is done.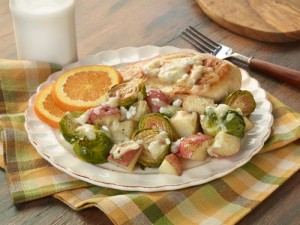 Courtesy of Fruits & Veggies–More Matters
I hope you'll try some of these recipes next Sunday at your own table.  I'll return next week with a few healthy ideas for fall baking.
See all posts