This story is in partnership with National Cattlemen's Beef Association on behalf of the Beef Checkoff.

Real beef burgers are a cornerstone of the classic American cookout. There are few things that scream, "It's summertime!" louder than the smell and sizzling sound of beef burgers on the grill as they cook to perfection.
As a registered dietitian who uses a non-diet approach for health and happiness, beef burgers are welcomed with open arms (and mouths!) as part of an overall healthy and deliciously satisfying eating pattern. In fact, reintroducing real beef burgers and reconnecting with my taste preferences was one of the big steps I took to heal my relationship with food (you can read more about that HERE). I'm a firm believer that eating according to our taste preferences improves both our relationship with food, and tends to yield a higher-quality diet overall!
For example, when it comes to beef, you'll be getting 10 essential nutrients like high-quality protein, iron, zinc, B12 and choline, each time you enjoy it. I see beef burgers as a nutrient-rich, flavor-filled, protein base for vibrant, crispy vegetables, fiber-rich whole grains, and creamy, melty cheese – making it easy to pack more nutrition in every delicious bite. Real beef burgers are also incredibly versatile because you can choose high- to low-percent lean options made with any cut from Chuck to Roast to Ground Round to Sirloin. There's something to appeal to everyone's taste preferences and budget!
A real beef burger is classically simple, but that's what makes it the perfect foundation for layering on additional nutrition and flavor. In fact, the latest 2020-2025 Dietary Guidelines for Americans suggests using burgers and sandwiches as an opportunity to "beef up" nutrient intake by pairing with produce and whole grains. I put together some quick tips and flavor inspiration to help you make every bite count as you build your next delicious beef burger.
First up, constructing the best burger from the ground, er…plate, up!
Building Brilliant Burgers
Though there's really no "wrong" way to build your own tasty beef burger at home, I've learned a few things through trial and error. To avoid under-seasoned patties or slippery toppings that won't stay put, try the following:
Build flavor. I use both pre-made (fresh or frozen) beef patties as well as making my own from scratch. Either version can be seasoned with your favorite steak seasoning, garlic salt, or one of my personal favorites for savory umami flavor, MSG. When I mix my own blend, I add complementary flavors like liquid smoke, soy sauce or fish sauce, or even a little brown sugar for subtle sweetness.
Don't overseason. It's easy to overwhelm the flavor of the beef burger by trying to do it all with the toppings. Pick 2-3 of your favorites and use a moderate amount. Then you'll be able to more easily eat your beef burger. Plus, you'll also enjoy all of the flavors in each bite with the beef still standing in the spotlight!
Toast those buns! Not to the point of turning them into actual toast, though you totally can if that's your jam. A toasted bun can add its own buttery, chargrilled flavor but more importantly, it adds some important structure to hold up to the toppings you stack on top of your beef burgers.
Create a base on top and bottom. I place my cool, crispy lettuce or spring mix under my cooked-to-perfection beef burger patty, then use melted cheese or a creamy condiment on top of it to help the other toppings "stick" without sliding off. It's not a perfect formula, but it does help when it comes to things like sliced tomatoes, onions, or pickles!
That brings me to my next highlight: my three favorite beef burger concepts!
It was tough, but I managed to narrow it down to three versions of quick pickles that provide the perfect pairings for brilliantly flavorful beef burgers.
Whew…that's a tongue twister but I promise, you can totally tackle these three flavor combos! I use a basic brine of equal parts apple cider vinegar and rice vinegar (for a balanced sweet but tangy flavor), water, sugar, salt, and whole peppercorns. I used 1/2 cup each of ACV and rice vinegar with 1 cup water and 1/2 cup sugar, then a generous pinch of kosher salt and about 1/2 tablespoon of peppercorns. I brought it to a simmer to fully dissolve the sugar then let it cool before draining and pouring over the sliced veggies.
And if convenience is king in your kitchen, follow my lead and reach for prepared and ready-to-eat kimchi, which is a fermented AND pickled option.
First up, a spicier spin on a classic!
Spiced-Up Traditional
If you like: the classic all-American beef burger…
You should try: quick pickled cucumbers with jalapenos and summer herbs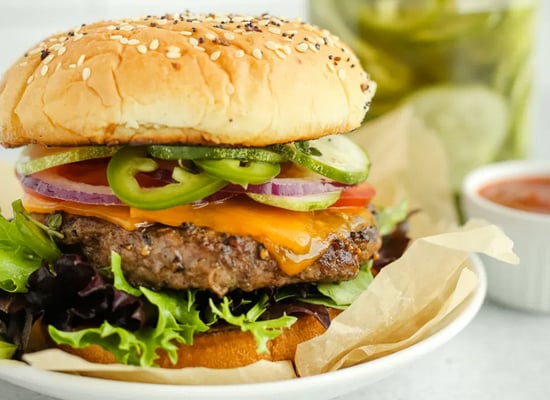 Slice one medium cucumber crosswise into coins, then do the same with a small jalapeno. Add to a glass jar along with sprigs of fresh summer herbs. Dill, oregano, rosemary, or thyme are all great options! Pour the brine over the veggies, seal, and store in the fridge overnight. Serve, and enjoy the spiced-up traditional quick pickles on top of a grilled beef burger on a toasted bun!
Sweet & Smoky
If you like: savory beef flavor balanced with subtle sweet + smoky flavors…
You should try: quick pickles made with cucumbers, radishes, carrots, and sweet onions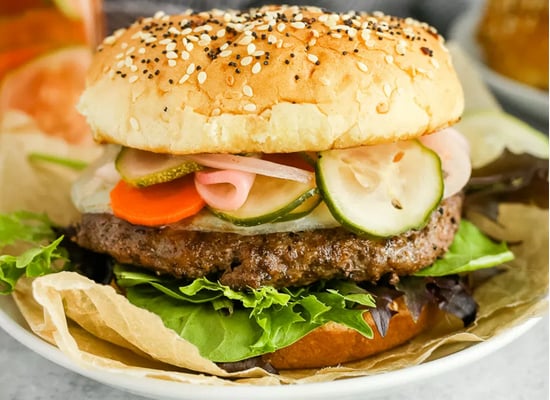 Slice one small cucumber crosswise into coins, then do the same with a carrot, 3-4 radishes, and 1/4 of a sweet yellow onion. Add to a glass jar along and pour the brine over the veggies. Seal, and store in the fridge overnight. For the beef burgers, add a small amount of liquid smoke and brown sugar to the patty mixture before grilling, then serve with smoked gouda or smoked provolone.
Korean Kimchi Beef Burgers
If you like: globally-inspired showing up at the summer cookout…
You should try: prepared kimchi and gochujang mayo on your beef burgers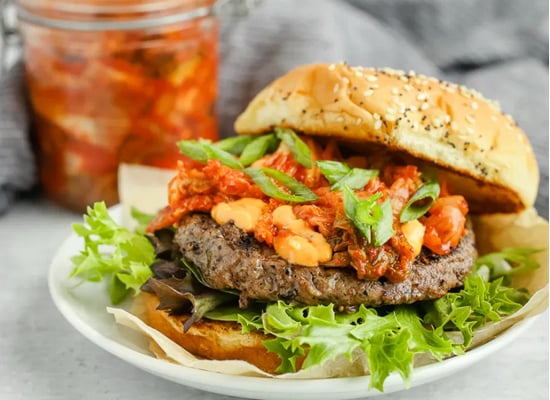 Add a jar of prepared kimchi to your shopping list, along with gochujang (fermented chili paste, a traditional Korean sauce). When mixing the beef burgers, add a splash of soy sauce or fish sauce. To make the spicy mayo, mix one part gochujang with two parts mayonnaise and stir until smooth. Once your beef burgers are grilled up and ready to go, top with the spicy mayo, prepared kimchi, and sliced green onions. Serve and enjoy!
What kinds of pickles go on a burger?
Short answer: any kind you want! When it comes to pickle pairings for beef burgers, nearly anything goes.
Longer answer: it depends on what you're going for.
If you like to keep things traditional, look for bread & butter pickles. They're one of the most popular types of pickles and a classic topping for burgers! These small pickles are sliced crosswise (coin-shaped) instead of lengthwise as spears, so they fit perfectly on top of a beef burger patty. Other common types of pickles that show up next to summer burgers is the classic dill pickle, kosher pickles, or gherkins.
However, I personally haven't been a big fan of these types of pickles. And trust me, I've really tried to learn to like them over the years! But as you can probably tell from the burger concepts I shared, sweet & spicy pickles are right up my alley. To me, quick pickles made with a slightly sweet, slightly sour brine are the ideal complement to the juicy savoriness of beef burgers off the grill. The contrast of flavors, textures, and temperatures hits all the marks for me!
I hope this gets you excited to fire up the grill! Between these pickle pairings and my tips for putting a tasty spin on the classic beef burger, I think you're on a solid path towards a season of enjoying delicious, flavor-packed beef burgers.