Seafood is a great protein choice for many people since it's lower in fat and calories than many meat options, especially if you prepare it by broiling or grilling and without using high fat sauces.  In addition, some fish like salmon and tuna, are high in omega-3 fatty acids.  Fruit and vegetables traditionally go perfectly with seafood–both as a side dish and as part of a recipe to enhance the flavor of the seafood.  You'll find that these perfect pairings make it easy to create a healthy dish for your family.
This simple recipe for Salmon and Summer Veggies in Foil is best when the vegetables are at their peak of flavor during the summer months, but can really be prepared at any time of the year since these veggies are available at your supermarket all the time.  I'd also say that during the summer months, you can use your grill to prepare this and give your oven a break.  Sliced zucchini and yellow squash are combined with sliced shallot, garlic and olive oil.  Salmon fillets are placed atop the veggies and then topped with a combination of diced tomatoes, herbs, sliced shallots and garlic. The fish and vegetables are baked for 25-30 minutes until cooked through.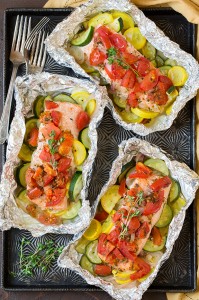 Photo courtesy of Cooking Classy
Here is a recipe for Grilled Mahi-Mahi with Mango Salsa, which you can also use with any other firm fish such as tuna.  This sweet/savory salsa has a bit of kick that it gets from the addition of a finely diced jalapeno pepper.  Lime juice, cilantro and red onion give even more flavor to it.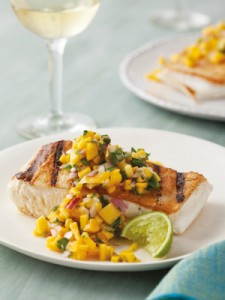 Photo courtesy of The Nest
Scallops are another popular seafood choice–high in protein and Vitamin-B12.  This recipe for Seared Scallops with Apple Cider-Balsamic Glaze, omits the high calorie creamy sauces that can tend to come with them many times and instead uses flavors that brings out their natural sweetness.  Spinach, mushrooms and a tiny bit of bacon complete the dish–this one is absolutely delicious!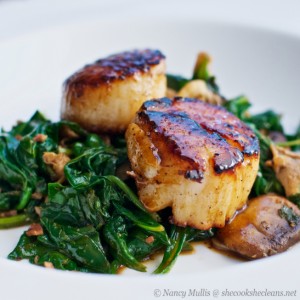 Photo courtesy of She Cooks He Cleans
Finally, as one of their featured healthy plates, Fruits & Veggies–More Matters has this recipe for Yellow Potato and Red Pepper Shrimp Saute.  Yellow potatoes, red bell pepper, onion, zucchini, shrimp, as well as herbs and spices are combined in this tasty one-dish meal.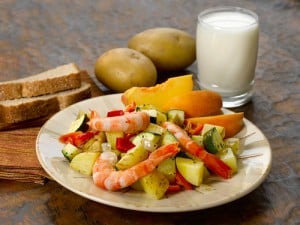 I hope you enjoy these healthy seafood dishes and if you love pasta, you'll want to check out next week's blog when I share some recipes that include working fruit and veggies into pasta dishes.
See all posts