Yesterday was National Nacho Day, yes you heard right–a special day set aside for nachos.  Sounds silly, but it's okay with me because nachos are one of my all-time favorite snacks.  The only drawback is traditional nachos can be loaded with a lot of fat and calories.  I don't mind indulging now and then, but I try not to make it a habit too often, which is hard when you love nachos as much as I do.  The compromise is to work in some healthy nacho recipes with the traditional.  These are lower in both calories and fat, while also including more veggies.
Healthy Grilled Sweet Potato Nachos use just a few multigrain chips as a base, then you'll top it with sliced, grilled sweet potatoes.  Refried black beans and grilled corn complete the layers.  A cheese sauce is made from shredded cheese of your choice, butter, minced garlic, milk, flour, and salt simmered together.  Top nachos with a bit of chopped, fresh cilantro.


Courtesy of A Pinch of Yum
Zucchini Nachos are made by cutting fresh zucchini into thin pieces and then baking them at 425 degrees on a sheet in a single layer until crisp.  You'll use these "chips" as your base and top them with crumbled garden burger patties (the recipe calls for using spicy black bean variety) and shredded cheddar cheese.  You can always top them with diced tomatoes, shredded lettuce, sliced jalapenos, or low fat sour cream if you choose.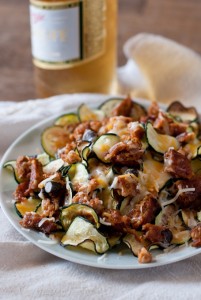 Courtesy of Betsy Life
Healthy Chicken Nachos are filled with fresh ingredients.  Start by using gluten free tortilla chips as your base.  You'll layer on grilled chicken breast, grated mozzarella and parmesan cheese mix, black beans, diced red onion, corn, sliced jalapeno, diced avocado, and chopped cilantro.  You'll also make a chipotle sauce by combining limes, adobe chilis, salt, and pepper in a blender.  Coat the chicken with the sauce before adding to the nachos.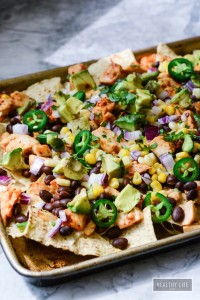 Courtesy of A Healthy Life For Me
Next week I'll be back with some great recipes using cranberries–just in time for the Thanksgiving holiday!
See all posts