Spring means lots of events–graduations, weddings, baby showers …you get the picture.  If you're holding a party and in charge of decorations, floral arrangements, in particular, can be quite pricey.  An interesting and equally festive way to dress up any tabletop is by using fruit and veggies as a centerpiece.  Fruit and vegetables are colorful and they have interesting textures that, when combined with some flowers that can be purchased at your local supermarket, make beautiful arrangements.  You'll end up spending a fraction of the cost and the result will be spectacular.
This arrangement uses broccoli florets, cabbage leaves, dahlias, sage, and rosemary as the main materials.  You'll need an earthenware pot, some garden string, wire, scissors, and garden stakes in order to create this look.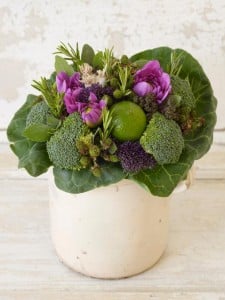 Courtesy of HGTV
Pomegranates work well in arrangements, especially when added with a few roses.  Add some baby's breath and you've got a tasteful and elegant centerpiece.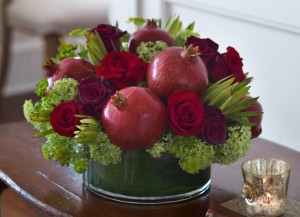 Courtesy of POM website
For long tables, you can select a rustic container like a wood box and fill it with a variety of fresh veggies that display different colors and textures.  Try to find vegetables that look like they've been recently harvested, so carrots that have green stems attached, etc.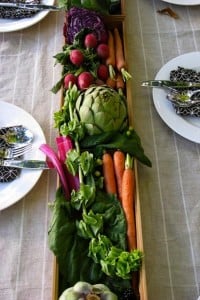 Courtesy of You Are My Fave
This arrangement is created using a variety of cabbages, kale leaves, radishes, and artichokes.  The result is a colorful and beautiful centerpiece for your table.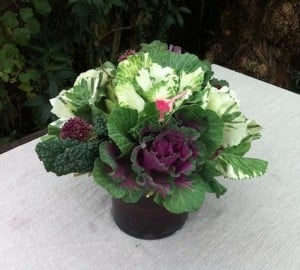 Courtesy of Remodelista
Get creative with fruit and veggies–it doesn't have to be complicated.  Simply setting out a crystal bowl filled with fresh lemons is enough to liven up a table with their bright yellow color.  I'll be back next week with papayas and their tropical flavor.
See all posts