Today we're taking a look at the "snack meal" trend! While some food trends come and go, I think this one is here to stay.
Snacking can be a "fruitful" (pun intended) way to enjoy more servings of fruits and vegetables, enjoy great flavors and textures, and minimize stress at mealtimes. Read more to see how easy it can be to come up with lunch ideas for adults and kids!
Benefits of Prepping Your Meals
While some people approach meal planning and prepping with a restrictive mindset, I look at it as an act of self-care. When I look at my calendar and see a busy week ahead of me, I know there will be limited time to shop, cook, and clean. Meal prepping is one way to simplify the process and make sure I have some filling and satisfying options ready to go when I need them.
Here are some other benefits of planning and prepping some meals in advance:
Eliminate the need to wash more dishes than necessary (with these snack lunch ideas, you barely need silverware!)
Use up the ingredients that are going to expire or spoil if you don't use them
Cover your bases with nutrition by making sure your meals offer a variety of food groups and nutrients. Most Americans don't eat the recommended servings of fruits & vegetables every day, so this is one easy way to #HaveAPlant
Make mealtimes easier because some of the decision making is done ahead of time
Keep you home cooler since you don't need to rely on the stove or oven to cook
If you want to learn more about meal planning and intuitive eating, check out this post to see more tips. These meal prep snack ideas fit right into a flexible and adaptable eating pattern!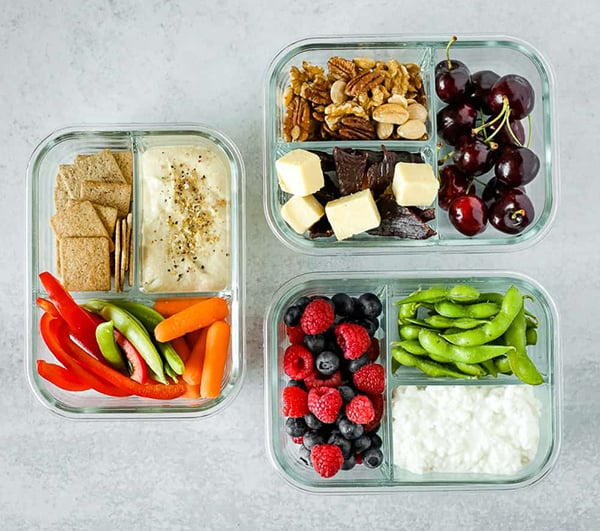 Meal Prep Snack Ideas
When you're thinking about your snack lunch, I recommend looking at what you have in your pantry, fridge, or freezer. Take into account your taste preferences, too. After all, you're the one who will be enjoying these meals!
Here are a few examples of snack lunch ideas. They can be easily transported to the office (if you're no longer working from home) and storage containers like these stack nicely in the refrigerator without taking up a ton of space.
Snack Lunch Idea A: Hummus with Veggies, Crackers, and Fruit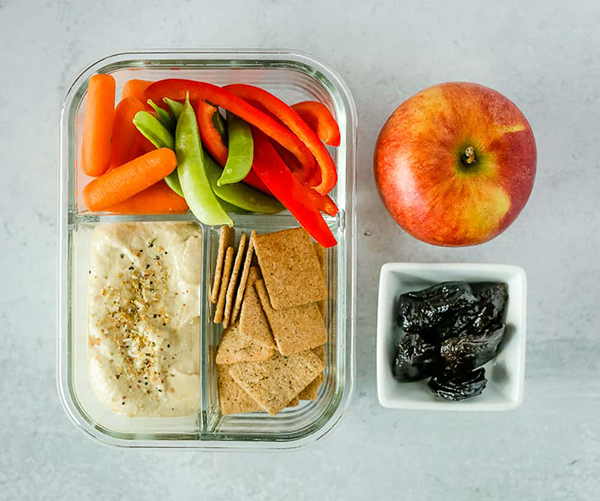 This version of a snack lunch features hummus with two options for dipping. I love the crunch of crackers along with the crispiness of fresh veggies. Slice a bell pepper into thin strips, then add some baby carrots and sugar snap peas. Whole-grain crackers add some additional fiber. Apples are a great fruit to pack in lunches because they hold up pretty well (unlike some of the softer fruits). Finally, adding 5-6 prunes is an easy way to support bone and gut health.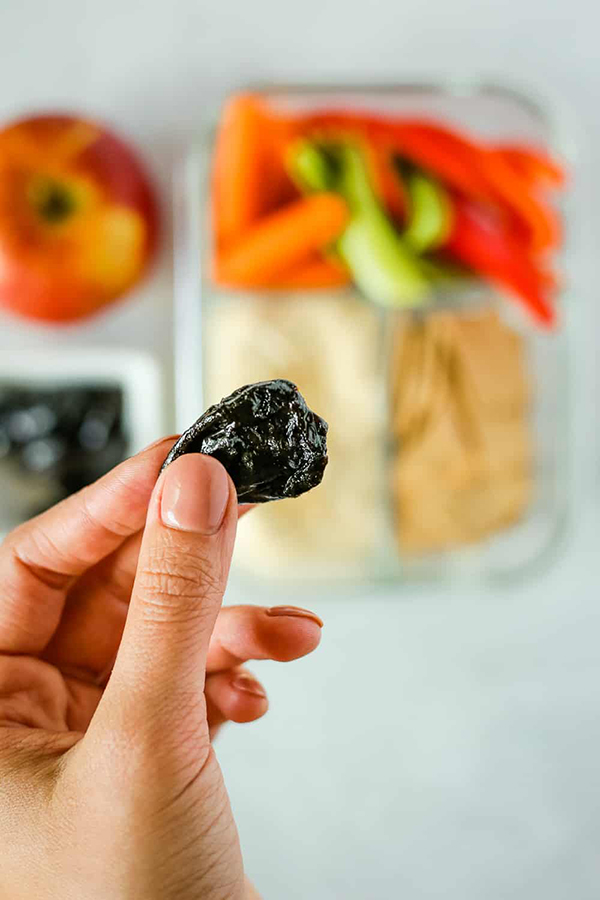 Prunes are much more versatile than I realized at first. They make a great pre-workout snack for me and when I was traveling often, I'd carry them with me on a plane or for a snack in my hotel. Check out this version of an easy prune puree that can be used for things like PB&J sandwiches or wraps!
Snack Lunch Idea B: Sweet & Salty Combos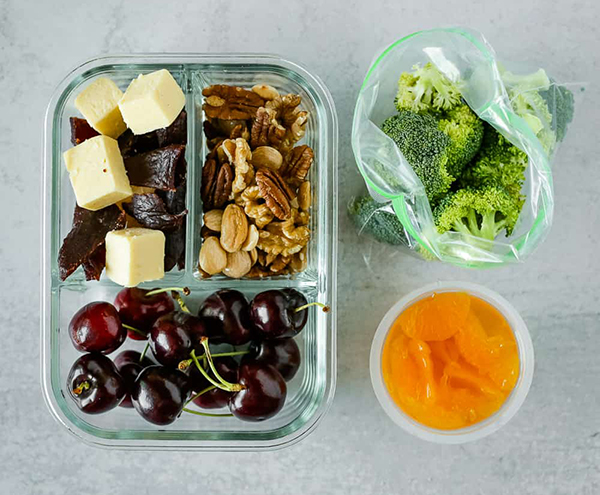 If you love the sweet & salty flavor combo, this snack lunch idea is for you. Sweet summer cherries offer multiple health benefits (read more about how cherries are a "good mood food") and they're fun to eat. When served alongside beef jerky and sharp cheddar cheese, you've got a recipe for satisfaction. Round out this meal prep snack idea by bagging up some fresh broccoli crowns or another veggie of your choosing, plus a cup of mandarin oranges.
Remember, fruits and veggies in any form (fresh, frozen, canned, dried, or 100% juice) can offer the same nutrition benefits and count towards your total number of daily servings.
Snack Lunch Idea C: Cottage Cheese, Berries and Fun Finger Food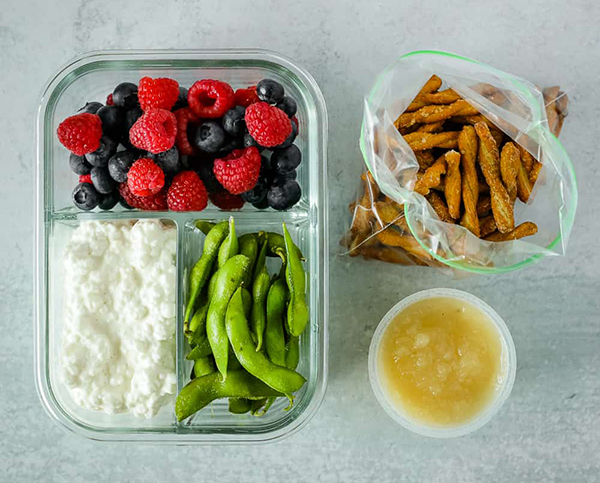 This snack lunch idea might be the most fun to eat, thanks to the frozen edamame. You can find them in your grocery store's freezer aisle among the other frozen vegetables. You can buy them in-shell (like what you see here) or shelled, which I use in salads or mixed into other recipes. If you're snacking on the pods, try seasoning them with your favorite seasoning blend or dipping sauce for added flavor.
Berries and cottage cheese are a classic combo that is making a return in popularity. Cottage cheese has more protein than yogurt and offers the same essential nutrients found in milk. Add a bag of salty, crunchy pretzels, a single-serving container of applesauce, and you're all set!
These are just a few examples of many. There's really no wrong way to meal prep these snack lunch ideas. If you get in a creative rut, look to this simple formula to mix and match food groups:
Fruit or Veggie + Protein + Complex Carbs or Healthy Fat
If you create some snack lunch ideas and realize you're missing a food group, there's no need to worry. Your next meal is a new opportunity to enjoy other foods and ingredients. The most important part of these snack meals is the convenience and variety that can help reduce stress and boredom around meal prep and eating.
Keep it simple and just remember to #haveaplant!