Cheesesteaks, Hoagies and Clubs–August is National Sandwich Month! While these are a few of the less-than-healthy options, I've got some great ideas for tasty yet nutritional sandwich selections beginning with your favorite toppings.  The easiest way to add both fiber and flavor to your sandwich is by adding some veggies and/or fruit.  A few great toppings to try are:
Tomatoes
Lettuce
Onions
Peppers
Pickles/Cucumbers
Olives
Sprouts
Avocado
In order to keep your sandwich low in calories and fat, use a spread that is low in calories like mustard or if using something like mayonnaise, make sure it's a reduced fat version.  In place of mayonnaise, you might want to try mashing an avocado and season with a bit of salt and pepper.  It has the same creamy consistency as mayo without the high fat/calorie content, plus the fats it does contain are heart healthy fats.  Use lean meats when making your sandwich, like turkey, chicken breast or lean ham.  Tuna packed in water is also a good choice.
The choice of bread can really make or break your sandwich, it can also add a lot of nutrition to your meal.  Stay away from the standard white bread, which contains little or no fiber and choose whole grain bread.  You will find this will add more flavor to your sandwich and will also help to keep you feeling full longer.  Pita bread is another great option, especially for tuna or chicken salad.  Whole grain rolls are perfect for heartier sandwiches.
This recipe for Greek Chicken Salad Sandwiches is packed full of veggies.  Cucumbers, grape tomatoes, Kalamata olives and red onion are combined with feta cheese to give this salad a wonderful flavor.  I love that it's placed on a hearty hard roll as its choice of bread.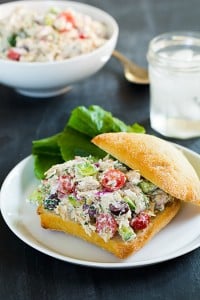 Turkey Wraps with Chipotle Avocado Spread are a great low-calorie lunch.  This spread is exactly what I referred to doing with avocado in place of mayonnaise.  In this recipe, avocado is mashed together with yogurt, chipotle peppers, cilantro and lime juice, making a slightly spicy and very tasty spread for whole wheat tortilla wraps.  It is then topped with smoked turkey, cucumbers and tomatoes, creating the perfect light lunch.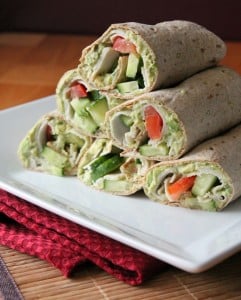 Finally, who says you can't go back to your old favorite peanut butter sandwhich?  Here's a great idea of layering thinly sliced fruit on toasted bread, spread with peanut butter.  You choose the fruit–this image shows both bananas and apples, but you can get creative–pears, strawberries, peaches, you choose!  Just make sure you use whole grain bread to get that extra fiber.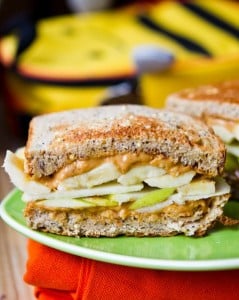 I hope these ideas gave you a new take on sandwiches and inspire you to create some healthy combinations yourself.
See all posts