One of the great things about preparing those massive holiday meals is having lots of leftovers to enjoy afterward.  However, after the third turkey sandwich you might be looking for something a bit more exciting for your taste buds.  This holiday season, I've got some ideas for using your leftovers in creative ways that will have your family thinking you've started from scratch.  Better yet, these recipes are also good for you!
One of the best things my mom always did with the leftover turkey carcass was make soup.  Of course you'll want to leave some meat on it and add in your favorite veggies like carrots, onion and celery.  This is a classic recipe just like my mom's that starts with a leftover turkey carcass.  Add veggies, egg noodles and herbs for flavor.  This soup is perfect for chilly days and can be enjoyed right away or frozen for future use.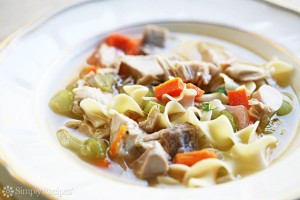 Photo courtesy of Simply Recipes
A terrific recipe for leftover turkey is this one for Turkey Enchiladas.  This recipe uses lots of flavors (salsa verde, red onion and cilantro) and the addition of Great Northern beans boosts the fiber and protein content of the dish.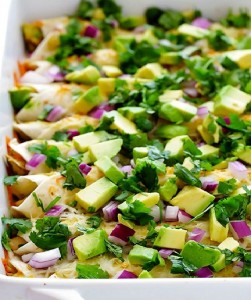 Photo courtesy of Gimme Some Oven
If you have lots of leftover stuffing and mashed potatoes here is an interesting recipe I discovered–just go easy on this one as it has more calories and fat than I'd usually recommend.  I'd save these for a decadent appetizer.  They are Mashed Potato and Stuffing Patties and they combine both side dishes along with a bit of leftover turkey.  Finely chopped onion is added to the mixture and then they are lightly fried (much like a potato pancake).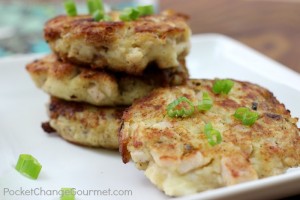 Photo courtesy of Pocket Change Gourmet
 Finally, if you want to stick with the turkey sandwich, here are two ideas to keep it interesting …first, try this Apple Cranberry Turkey Salad for a different twist.  It's got diced apple, dried cranberry, chopped pecans and diced celery–you're sure to have a "crunch" in every bite!  This recipe suggest rolls, but I'd prefer a wrap, pita or whole grain bread.  This would also be delicious atop a bed of mixed greens.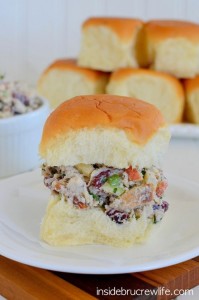 How about this Turkey Pesto Cranberry Melt?  This looks unbelievably delicious!  Sliced turkey, pesto, leftover fresh cranberry sauce and fresh mozzarella cheese on rustic bread make this a hearty sandwich.  Reduce the fat/calories by using a low-fat cheese option and use a whole grain bread.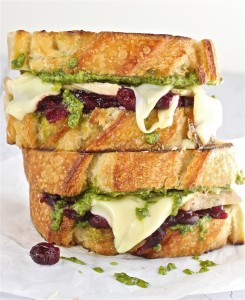 Photo courtesy of The Hopeless Housewife
 I hope I've given you some ideas for your holiday leftovers than are outside the norm this year.  Check the Fruits & Veggies–More Matters recipes section for more healthy ideas.
See all posts