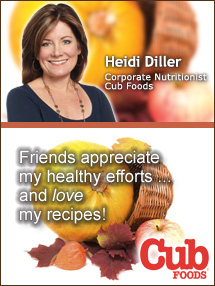 I grew up with a mother who baked our neighbors a loaf of pumpkin bread during the holidays. The smell of cinnamon and nutmeg drifting from the kitchen signaled the beginning of the holiday season. Today, I also like to make homemade gifts but have come up with ideas to "health them up." Do I hear complaints? Never! In fact, my friends appreciate my healthy efforts and love my recipes.

So today I'm sharing two recipe ideas that incorporate two of my produce favorites – pumpkin and apples. Both of these healthy produce items remind me of the holidays and will make homemade gifts your friends will appreciate every year.

Best Ever Pumpkin Bread

This is the best and lightest pumpkin bread you'll ever eat. No one will know it's lighter than the original, uses whole wheat pastry flour, and is loaded with nutrients. It's my favorite!

Serves 16

1 cup light brown sugar (packed)
2 large egg whites or ¼ cup egg substitute
1 cup pure pumpkin
¼ cup canola oil
½ cup non-fat plain yogurt
½ cup applesauce
1 teaspoon vanilla extract
¾ cup all-purpose flour
1 cup whole wheat pastry flour
1 ½ teaspoons baking powder
1 teaspoon ground cinnamon
½ teaspoon ground nutmeg
½ teaspoon baking soda
½ teaspoon salt

Directions

Preheat oven to 350° F. Spray 9 x 5 loaf pan with nonstick cooking spray. In large bowl, combine brown sugar, egg whites, pumpkin, oil, yogurt, applesauce and vanilla extract. In medium bowl, combine all-purpose flour, whole wheat flour, baking powder, cinnamon, nutmeg, baking soda, and salt. Add flour mixture to pumpkin mixture; stir until just combined. Pour batter into prepared pan. Bake 50 minutes or until toothpick inserted in center of loaf comes out clean. Cool in pan 10 minutes. Then cool completely on a wire rack.


Nutrition Information per serving: Calories 145, Total Fat 4 g, Saturated Fat 0, Cholesterol 0, Sodium 165, Carbohydrate 27, Fiber 1 g, Protein 2 g
Cinnamon Apple Chips

Perfect as a party snack or wrap them up as a holiday gift.

Makes about 40 chips.

2 cups unsweetened apple juice
1 cinnamon stick
2 Red Delicious Apples

Directions

Preheat oven to 250° F. In a large pot, combine apple juice and cinnamon sticks and bring to a simmer while cutting the apples. Slice off ½ inch from the tops and bottom of the apples. Cut cross wise into 1/8-inch even slices—a mandolin slicer works best. (No need to peel or core the apples—the seeds will come off in the next step.) Drop slices into simmering juice and cook until slices are translucent and slightly golden. With a slotted spoon, remove apples and pat dry. Arrange slices on wire racks, making sure slices do not overlap. Bake 30 to 40 minutes until slightly browned and almost dry to touch. Let chips cool on racks completely. Store in an airtight container. For gifts, arrange slices in clear plastic bags and tie with ribbon.

Source: Washington Apple Commission
Heidi Diller, RD
Fruit & Vegetable Recipes
Video Center: Selection, Storage, and Preparation of Fruits & Vegetables.