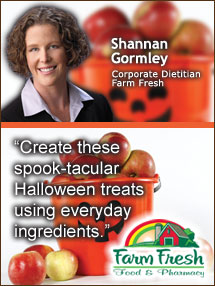 Halloween is often synonymous with sweets. Balance the abundance of candy by offering a few nutritious options at your Halloween party this year. You can turn any appetizer into a ghoulishly good dish in a few easy steps. Get the whole family involved in the party planning. Kids will enjoy pairing simple ingredients together to make creepy creations.

Create these spook-tacular Halloween treats using everyday ingredients.


Frightening Fruit Punch
1 quart fruit sherbet
2 liter diet lemon lime soda
1 liter lemonade
one (46 ounce) can 100% pineapple juice
To Make:
Refrigerate soda, lemonade and juices before serving.
Mix together soda, lemonade, 100% pineapple juice.
Add desired amount of lime or orange sherbet to punch mixture for frothy treat.
Eerie Eyeball Ice Cubes
To Make:
Add a grape in each ice tray.
Pour apple juice into ice tray with grape and freeze.
Serve in fruit punch for eerie eyeball appearance.
Toasted Jack-o-Lantern Chips
tortilla wraps
pumpkin cookie cutters
dried herbs
non-stick cooking spray
hummus or salsa
To Make:
Spray non-stick cooking spray onto tortillas. Sprinkle tortillas with dried herbs or salt and pepper, if desired.
Use cookie cutter to cut out shapes in the tortilla wraps.
Place cut-outs [and leftover pieces] on cookie sheet and toast in oven (375º F) until crunchy. Serve with hummus or salsa.
Vampire Apple Bites
To Make:
Rinse apple. Cut apple into equal sections.
Cut a wedge into each apple section on the side of the peel. This will give your apple section a "mouth-like appearance."
Insert slivered almonds into the apple where you cut the wedge on the top and bottom halves. This will create "set of teeth" in your apple bite. Serve with your favorite dip!
Shannan Gormley, MS Ed, RD
Farm Fresh Food & Pharmacy