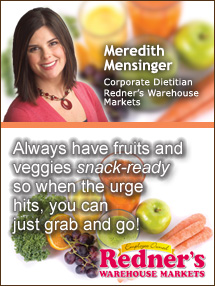 Say good bye to the winter blues and hello to spring. The weather is warming up, the birds are back in town and flowers are in bloom … it's time for spring cleaning! Although you'll probably be working diligently to deep clean and organize your house, it's also a perfect time to spring clean your kitchen and your health!

Not only does spring cleaning burn calories, but making over your kitchen is a great way to control the amount of calories you are taking in. Ensuring you always have fruits and vegetables on hand [in any form] is a great way to always have a low-fat, low-calorie meal or snack available at any time!
Steps to a Safe and Healthful Spring:
Wipe down walls, ceiling, light fixtures, and windows in the kitchen.
Check the 'use by' date and remove any outdated food items from your pantry.
Wipe down pantry shelves and take inventory of food items you have and what you should have on hand to make a healthful meal in minutes:

A variety of canned vegetables
Tomato sauce
Canned fruit
Dried fruit
100% fruit juice

Clean the oven.
Wipe down the inside and outside of the refrigerator and discard any outdated food items then stock up on fresh in-season produce such as:
Wipe down the inside of the freezer. Discard any foods that are outdated or have not been stored properly.
Make sure you have frozen mixed fruit and berries on hand to toss into fruit smoothies or on top of cereal or yogurt in a moment's notice. Also, stock your freezer with frozen vegetables for a quick and easy mid-week stir-fry or a succulent side dish.
Wash the sink and countertops and always keep a basket of fresh fruit available as a quick 'grab and go' spot for on-the-run snackers.
Sweep and mop the floors.
Meredith Mensinger, RD, LDN
Redner's Warehouse Markets
Fruit & Vegetable Recipes
Video Center: Selection, Storage, and Preparation of Fruits & Vegetables