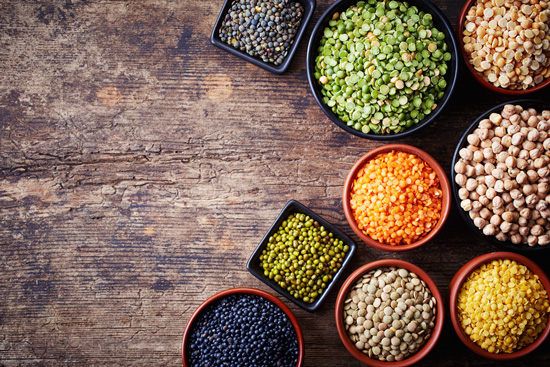 What food will provide an abundance of protein, fiber and starch for minimal cost? Hint: Most Americans forget to incorporate them into meals on a regular basis, but these nutritional powerhouses are truly unsung heroes for health, weight management and managing food budget. The answer is this year's observation by the United Nations: 2016 is the International Year of the Pulses.

What are Pulses?
Pulses are what we think of as dried beans, dried peas, chickpeas and lentils. Although these are often referred to as legumes, pulses are actually one category of legumes. Peanuts, soy (edamame), and fresh peas and beans are also considered legumes.

Why Pulses?
They're a fiber rich, plant-based source of protein, which are important characteristics when building meals. Depending on the type of pulse you cook with, you'll gain an array of nutrients like iron, potassium, zinc, B-vitamins (like folate), and antioxidants. In comparison to animal-based sources of protein, pulses provide nearly zero grams total fat and are free of sodium.

Additionally, the environmental and economic impact pulses have globally is incredible. Pulses grow in very sever conditions like drought, making them an essential source of food and income for millions. The amount of water used in farming pulses is a fraction of that for other protein sources like cattle, chicken and pork.

How to Pulse?
Dried beans, dried peas, chick peas and lentils work in almost any recipe you can dream up. Their colors and textures add vibrancy and contour to dishes. From salads, soups, casseroles and breads, to baked beans, salsa, hummus, veggie burgers, smoothies and desserts, pulses can play a leading role.

Summer salads, like the one below from Canadian Lentils, are an easy and tasty way to begin incorporating pulses into meals regularly.

More Info
Lentil Recipes
All About Pulses

Recipe
Sugar Snap Pea & Lentil Salad with Mint Vinaigrette

What You Need
For salad:

3½ cups sugar snap peas, string removed and cut diagonally in thirds
1½ cup cooked green lentils
1½ cup small radishes, thinly sliced
2 cups baby arugula
½ cup crumbled feta cheese (reserve some for garnish)
2 tablespoons scallions, thinly sliced
¼ cup sunflower seeds (reserve some for garnish)

For dressing:

¼ cup white wine vinegar
2 tablespoons fresh mint, finely chopped
1 teaspoon whole grain mustard
1 teaspoon honey
3 tablespoons olive oil
salt & ground black pepper, to taste

How to Make It

Toss all salad ingredients together in a large bowl.
Whisk together vinegar, mint, mustard and honey. Whisk in oil in a slow steady stream. Season to taste with salt and pepper.
Toss dressing with salad. Garnish with sunflower seeds and feta cheese.
Carrie Taylor, RDN, LDN
Lead Registered Dietitian for the Living Well Eating Smart Program
Big Y Foods
Insider's Viewpoint Archive
Fruit & Vegetable Recipes
Video Center: Selection, Storage, and Preparation of Fruits & Vegetables.