Easy-to-make, colorful and nutritious 'power bowls' are among the hottest healthy food trends. Unlike the food trends that require specialty ingredients or a chef to create, this one is a cinch to pull off in your very own kitchen, using ingredients you likely have on hand in your pantry or fridge. In fact, making them yourself allows you to keep better tabs on the quality of the ingredients, serving sizes and cost. Whip up a DIY power bowl with these tips to make it nutritious and delicious.
4 Steps to Healthy Power Bowls
Ace Your Base
Start with a base of your favorite type of cooked grain such as quinoa, brown rice, farro, bulgur, barley and even steel cut oats to add bulk, along with nutrient-rich whole grains and fiber. Keep the portion around ½ to ¾ cup for calorie control.
Make-Ahead Tip: When cooking grains, make a double batch and store the leftovers so they are readily available for fast recipes like power bowls.
Add Protein Power
Choose lean protein like grilled chicken, pulled pork tenderloin, broiled salmon, tuna or shrimp. Or if you are craving a plant-powered bowl, use drained and rinsed beans, cooked lentils, seared tofu, scrambled eggs or roasted nuts.
Pile on the Veggies
Fill your power bowl to the brim with vibrant vegetables to add an abundance of vitamins, minerals, antioxidants and fiber. Of course, vegetables also contribute to the flavor, texture and eye-appeal of your finished bowl.
Time-Saving Tip: Incorporate recipe-ready, pre-cut vegetables, fresh salsa and prepared guacamole right from your supermarket's produce department for a fuss-free option.
Top it Off
Add sauces and other garnishes to bring the flavors of the ingredients together. Then, grab a fork and dig in!
Asian – Try reduced-sodium soy, teriyaki or Szechuan sauce, fresh ginger, sesame oil or water chestnuts.
Mexican – Try fresh cilantro, lime juice, jalapeño peppers, queso fresco, salsa or avocado.
Greek – Try crumbled feta cheese, Kalamata olives, extra virgin olive oil, cucumber, lemon juice, fresh dill or non-fat plain Greek yogurt.
Change up your Taco Tuesday with this healthy burrito bowl that provides a mega-dose of lean protein, whole grains, vegetables, beans and Mexican flavors.
Pulled Pork Burrito Bowl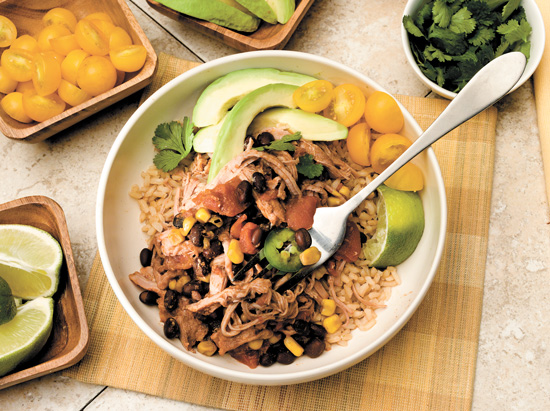 Ingredients
1 lb. boneless pork tenderloin, trimmed
1 (14.5-ounce) can Mexican-style diced tomatoes
2 tsp. smoked paprika
1 tsp. cayenne pepper, or less to taste
1 cup sweet corn, thawed if frozen or drained and rinsed
1 (16-ounce) can no salt added black beans, drained and rinsed
3 cups cooked whole-grain brown rice (or sub another whole grain of choice)
Instructions
In a 4- to 6-quart slow cooker, STIR tomatoes, smoked paprika, cayenne pepper, corn and black beans. ADD pork tenderloin and coat with tomato mixture. COOK on low for 6-8 hours.
Using 2 forks, SHRED pork into bite-sized pieces and STIR into the tomatoes to coat. PLACE cooked rice into 4 bowls. DIVIDE shredded pork mixture and desired toppings evenly into each bowl. GARNISH with a lime wedge and serve.
Topping Suggestions
Shredded Mexican cheese
Sliced avocado
Diced red onion
Diced yellow tomatoes
Sliced jalapeño
Light sour cream
Cilantro
Lime wedges
Nutrition Facts per serving (toppings not included): 540 calories; 6g fat; 1.5g saturated fat; 0g trans fat; 75mg cholesterol; 370mg sodium; 62g carbohydrate; 10g fiber; 39g protein; 15% DV vitamin A; 50% DV vitamin C; 20% DV iron.