As the temperature rises this summer, drinking enough water is more important than ever to stay hydrated and energized. Even mild dehydration can cause dizziness, tiredness, and headaches. If you're bored with plain old water and craving something with more flavor, try infusing it with fresh fruits, veggies and herbs. Sipping on infused water is a tasty and refreshing way to hydrate this summer without added sugar or artificial flavoring. It's also a surefire way to impress your guests at your next picnic or family gathering.

6 Steps to Healthy & Refreshing Infused Water
Prep your add-ins – Be sure to wash all produce and herbs before slicing and dicing.
Mix it up – Start with a large glass bottle or jar with a lid, add your desired ingredients and fill with cold or room temperature water.
Let it sit – For best flavor, refrigerate for at least one hour. For a more intense flavor, refrigerate overnight. Some fruits and herbs will infuse more quickly than others. The longer it soaks, the more the flavors are released into the water.
Draw out the flavor – Try muddling, the process of mashing ingredients to draw out essential oils in herbs, rinds and fruits, for more concentrated flavor.
Mix once and reinfuse – Get multiple uses out of the ingredients by adding more water and letting it infuse again. Make sure to drink within one day.
Change it up – Experiment with sparkling, seltzer or unsweetened coconut water as the base instead of plain old H2O.
Here are some tasty ways to infuse your water with fruits and veggies!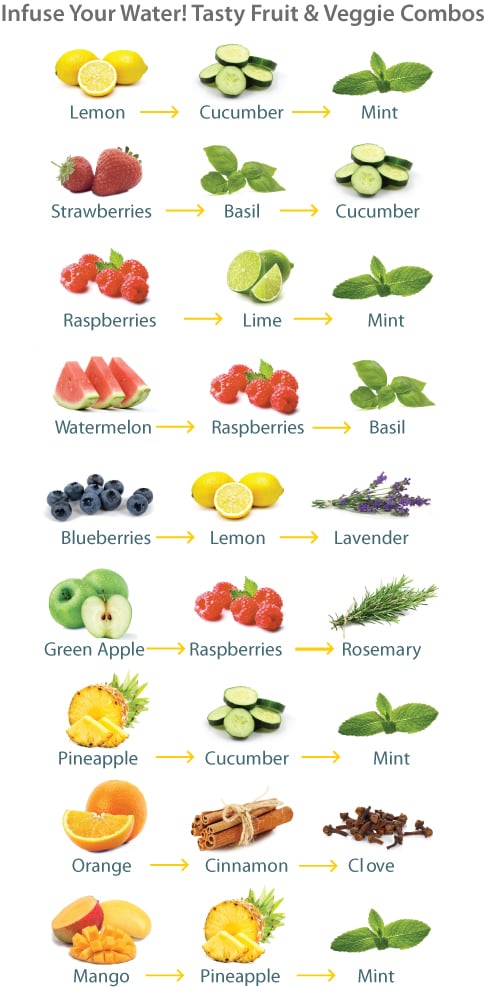 Infused Ice Cubes
Another simple way to dress up beverages is to add infused water ice cubes. It's this simple:
Add water to an ice cube tray until each ice cube section is almost half full.
Cut desired fruits, veggies, and herbs into small pieces/slices and place into each ice cube section.
Fill remaining space with water and freeze.
After the cubes are fully frozen, you can pop them out of the tray and store them in a freezer bag for later use.

Recipe
Watermelon-Strawberry Cooler
This variation on infused water uses fresh watermelon and strawberries to create a deliciously sweet and refreshing drink that's perfect for hot summer days.

Prep time: 15 minutes
Makes: 4 servings

Ingredients

4 cups seedless watermelon, cut into 1-2 inch cubes
1 cup strawberries, sliced in half
1 cup cold water
2 Tbsp. fresh lemon juice, plus more or less to taste
1 Tbsp. light agave nectar, plus more or less to taste
4 watermelon slices, thinly sliced (optional garnish)

Instructions

Combine watermelon, strawberries and water in a blender. Pulse until the mixture is liquefied.
Strain as needed into a pitcher.
Stir in lemon juice and agave.
Pour into glasses, garnish and serve.

Recipe Variation: for a slushier texture, arrange cubed watermelon on a tray in a single layer, cover and freeze before blending.

Nutrition Facts per serving: 80 calories; 0g fat; 0g saturated fat; 0g trans fat; 0mg cholesterol; 0mg sodium; 19g carbohydrate; 1g fiber; 16g sugar; 1g protein; 70% DV vitamin C; 15% DV vitamin A.
Kathryn Long, RDN, LDN
Healthy Living Coordinator
Weis Markets, Inc
Insider's Viewpoint Archive
Fruit & Vegetable Recipes
Video Center: Selection, Storage, and Preparation of Fruits & Vegetables.