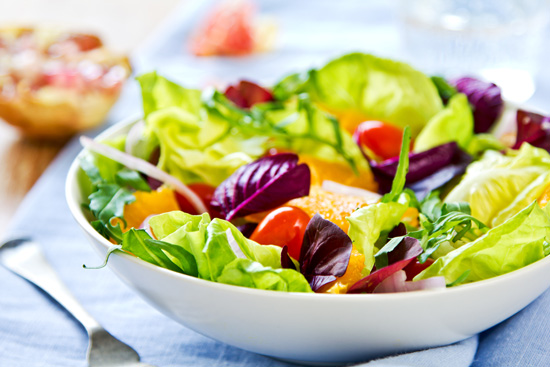 A strange paradox exists in our society. Almost everyone talks about wanting to eat healthy and lose weight … yet over 80% of Americans fail to eat the daily recommended amount of fruits and vegetables. What's the problem? A look at what's for lunch can provide some clues.

Often nothing is more important than convenience when packing a lunch. This might lead to throwing together a cold-cut sandwich, reaching for a can of ready-to-eat soup or tossing last night's pasta into a container. Pair this with a bag of potato chips and you're all set for noon!

Unless you're going out for lunch …

Sizzling fajitas, juicy grilled hamburgers, freshly salted fries and pizza hot out of the oven can be tempting, to say the least. Even if you manage to listen to your healthy side and order a salad, you can still end up eating more calories than you'd like. And don't be fooled by the grilled chicken on a chicken Caesar salad, it's loaded with tons of cheese and creamy dressing. Ordering this from traditional steakhouse will cost you 1,140 calories, 93 grams of fat and 1330 mg of sodium, which is more than a bacon cheeseburger!

This is not to say you should just give up and order that cheeseburger. Instead, make a salad at home to save on cash and calories to get in some much needed servings of vegetables. Building a salad that's anything but boring is easy when you follow a simple formula.

How To Build a Better Salad: 6 Steps
Choose a base. There are many different leafy greens that can serve as the base for your salad. Choose from arugula, baby spinach, romaine, kale or mixed greens. Iceberg is an option too, but it has very little nutritional value and doesn't contain nearly as many vitamins and minerals as its darker green counterparts.
Add more veggies. This is a salad, after all! You can use raw, sautéed, grilled, or pickled – really anything you have in your fridge will work. Try using a spiralizer to create carrot curls, toss some Brussels sprouts into a food processor for thin slices or, grill squash for added smoky flavor.
Give it some crunch. Seeds and nuts add necessary texture. Try pumpkin, chia, or sunflower seeds and slivered almonds, walnuts, or peanuts. Watch portion sizes and make sure to choose the unsalted variety.
Pile on the protein. But only if you want! One reason why people say they don't like to eat a salad is because it leaves them hungry again an hour after eating. Add protein to avoid this problem. Grilled chicken, canned tuna, hard-boiled egg, black beans, chickpeas, or even tofu will help keep you full.
Toss on a little something extra. Try herbs, fruit, grains or cheese. Here the list is truly endless. When it comes to grains, go whole and choose something like quinoa, bulgur, farro, or wheat berries. With cheeses like goat or feta, a little goes a long way to add flavor. Remember, we did agree that this is a salad, so don't go overboard!
Dress it up. Make your own salad dressing to keep it lite and simple compared to store-bought varieties. Many dressings can be made with ingredients you probably already have! Try an easy lemon vinaigrette that pairs perfectly with many different salads.
Recipe

Lemon Vinaigrette Recipe

Ingredients

¼ cup red wine vinegar
2 tablespoons Dijon mustard
½ cup extra virgin olive oil
Zest and juice of 1 lemon (about 4 tablespoons juice and 3 teaspoons zest)
1 clove garlic, finely minced OR 1 teaspoon garlic powder
1 tablespoon honey
1 teaspoon salt
¼ teaspoon black pepper
1 tablespoon fresh minced oregano OR 2 tablespoons dried oregano

Directions
Add all ingredients in a food processor or blender and pulse until well combined and smooth. Refrigerate and let flavors blend for at least 30 minutes before serving. Dressing can be stored in the fridge in an airtight container for up to one week. NOTE: One serving of dressing = 2 Tbsp.
If eating a salad for lunch every day doesn't sound appealing to you, start with one per week and work your way up. You'll be amazed by how good you feel when you add more veggies to your diet!
Allison Witmer, B.S.
Redner's Markets
Insider's Viewpoint Archive
Fruit & Vegetable Recipes
Video Center: Selection, Storage, and Preparation of Fruits & Vegetables.