When it comes to summer grilling, you can't go wrong with kabobs. With nearly endless combinations of meat, poultry, fish and colorful vegetables, there's something to please every palate. Try these prep and grilling tips and tricks to ensure shish kabob success all summer long!
Start with the Skewers
Use wooden or metal skewers that are 10- to 12-inches long. If using wooden skewers, soak them in water for at least an hour and wrap the ends with a small piece of aluminum foil to prevent burning.
Add the Protein
Keep it traditional with chicken, beef or pork … or try shrimp, salmon, tuna or firm tofu. Cut the pieces to a uniform size (between 1-1 ½") for even cooking and thread ingredients together based on similar cooking times, leaving space between so the heat can circulate and evenly cook.
Brighten with Produce
A kabob isn't complete without a rainbow of colorful produce. Try red onions, bell peppers, cherry tomatoes, zucchini, whole mushrooms or cut corn cobs. Or give kabobs a sweet and savory twist with fresh pineapple, watermelon, peaches, plums or nectarines.
Infuse with Flavor
Marinades infuse kabobs with flavor while tenderizing meats. Standard marinade recipes consist of an oil to carry the flavors, an acid to tenderize, and shallots, garlic, herbs or mustard for flavor. For best results, use ½ cup of marinade per pound of meat or vegetables and keep the flavors simple and clean so they don't overpower. Marinate beef at least 30 minutes or overnight and poultry and pork for up to two days.
Looking for a fresh and flavorful marinade? Try one of the three recipes below! To prepare them (unless otherwise directed), combine all ingredients in a bowl, then slowly drizzle in the oil while whisking to emulsify. Always discard leftover marinade that has been in contact with raw meat or seafood.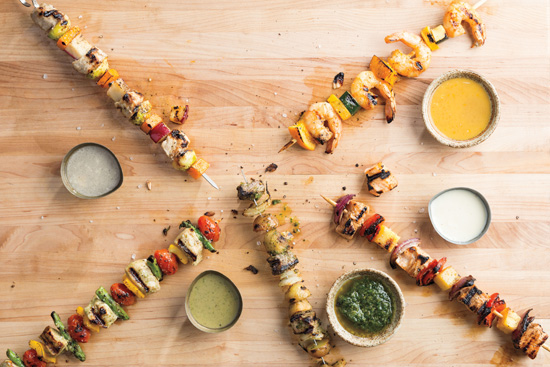 3 Ways to Flavor Your Kebabs
Tuscan
Pairs well with chicken, cherry tomatoes, asparagus and bell pepper.

4 garlic cloves, crushed
6 Tbsp. fresh lemon juice
3 Tbsp. finely chopped fresh basil
1 tsp. Worcestershire sauce
½ tsp. salt
¾ tsp. black pepper
⅓ cup extra virgin olive oil

Chimichurri
Pairs well with sirloin steak, baby potatoes, mushrooms and onion.
NOTE: use a blender or food processor

4 garlic cloves
2 green onions, coarsely chopped
¼ cup packed cilantro leaves
¼ cup packed fresh Italian parsley leaves
¼ cup white wine vinegar
1 tsp. dried oregano
¾ tsp. salt
½ tsp. black pepper
14 tsp. cayenne pepper
¾ extra virgin olive oil

Pineapple-Coconut
Pairs well with salmon, pineapple, bell pepper, red onion.

1 garlic clove, minced
½ cup pineapple juice
⅓ cup lite coconut milk (canned)
¼ cup fresh lime juice
2 Tbsp. honey
2 Tbsp. canola oil
How To Grill Kebabs
Grill kabobs on the direct heat side of the grill over pre-sprayed grill grates and don't rotate until the undersides look slightly browned and release easily from the grill. Then turn as needed to evenly sear all sides. If the meat requires additional grilling time after being seared, transfer the kabobs to the indirect heat side of the grill until chicken reaches 165°F, beef reaches at least 145°F for medium doneness, and pork reaches 145°F.
Balance the Meal
Kabobs cover the protein and veggies for the meal so all you need is a whole-grain side. Try serving kabobs over a bed of quick-cooking quinoa, brown basmati rice, farro or bulgur. Or for a lower-calorie, lower-carbohydrate option, go with spiralized zucchini or yellow squash.
For more sizzling kabob ideas, check out Weis HealthyBites Magazine.