I may be late to the game, but it wasn't until I became a mom that I finally realized why our earth is called "Mother Earth" (don't judge!). Just like a loving mother, our planet provides us with everything we need to survive, literally! From a home to water to food, our planet provides all- including a bounty of fruits and vegetables!
We obviously know that fruits and vegetables are good for US, but did you know a plant-forward diet is also good for our planet? That's because plant-based diets have been cited as having less of a carbon footprint, uses less water to produce, and requires less land to grow! So what better way to celebrate Earth Day then to honor Mother Earth with recipes featuring the bounty she provides us? These recipes will help to easily (and deliciously) incorporate more fruits and veggies onto your plates to nourish both us AND the planet! It's a win-win!
First, let's start off with breakfast.
Fruit is a common choice for breakfast but sometimes, I'm craving savory. These Spinach and Pepper Omelet Muffins are perfect for busy mornings! I make them ahead and in the morning, just pop them in the microwave for a delicious, plant-based breakfast! The best thing is that this recipe is totally customizable – so I switch out asparagus and peppers for spinach and tomatoes for my two little ones!
Next, lunch and dinner!
If you're looking to try something new and Earth-friendly, my recommendation is this Thai Stir-Fry with Tofu, Pineapple, and Cucumber! It's a simple recipe that is chock-full of protein, fiber, and plants! It's super colorful and delicious – my boys were asking for seconds! We made this recipe during one of our cook-alongs and it was so fun! Be sure to join our next one at www.giantfood.com/cookalongs.
Last, we certainly can't forget about snacks!
Snack time has a spot for plants too! And, adding a fruit or veg with snacks is a great way to meet our daily needs. We all know and love yogurt topped with fruit (it's my go-to!) but if you're looking to pizzazz it up (especially for the kiddos), give this Frozen Fruit and Yogurt Bark a try! It's a great way to get them involved in the kitchen – and how pretty is this?!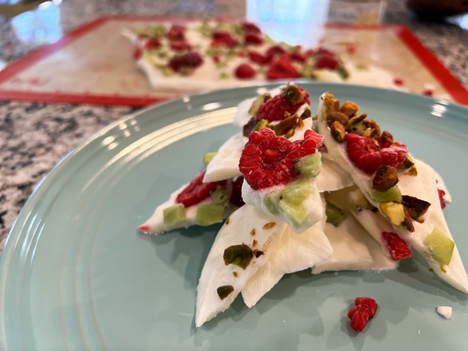 These recipes will surely make you feel good in all the ways possible – good for your body, and good for the planet! So don't forget to #haveaplant! If you're looking for more ways to love Mother Earth, be sure to check out our blogs at www.giantfood.com/nutrition.