One of the few things I do like about the winter season is the fact that citrus fruit is at the peak of flavor and so plentiful.  A personal favorite is the grapefruit.  Ever since I was young, I've enjoyed simply eating the fruit sectioned at breakfast with a bit of sprinkled sugar on top.  Grapefruit is a terrific addition to your diet as it's fat free, sodium free, cholesterol free, and high in both Vitamins A and C.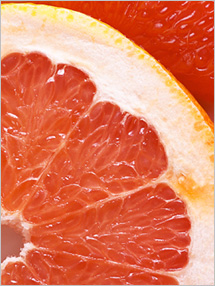 Courtesy of Fruits & Veggies–More Matters
Did You Know …Grapefruit's name is derived from how it grows on the tree, clustered like a bunch of grapes!
Grapefruit, unlike many other citrus fruits, has a tangier rather than simply sweet flavor.  This makes it perfect for incorporating into a variety of recipes.  Glazed Salmon with Spicy Grapefruit Relish is a perfect light supper.  The relish is made with ruby red grapefruit and then some spice is also added with the addition of red pepper flakes.  You can broil or grill your salmon depending on the season or your preference.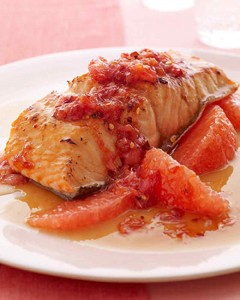 Courtesy of Martha Stewart
Grapefruit, like most other citrus fruit, is a great addition to any salad.  Mixed Herb Grapefruit Salad keeps it simple with the ingredients, yet is packed full of flavor.  Mixed greens, sliced grapefruit, dried cranberries, sliced almonds, and crumbled goat cheese go well together.  A red wine vinaigrette is the perfect light dressing to pull this salad together.

Courtesy of My San Francisco Kitchen
Broiled Grapefruit with Brown Sugar and Honey is a different twist on the traditional way to enjoy this delicious fruit.  I think you'll enjoy the warmth of the fruit, along with the cinnamon and honey blend, especially during the cold weather months.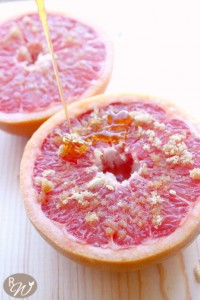 Courtesy of The Rustic Willow
Michael Marks, Your Produce Man, has a few how-to ways to prepare grapefruit in these step-by-step videos.  I hope this citrus fruit brightens up your winter days and I'll be back next week with some hearty meal ideas for your next snow day.
See all posts