April is National Soyfoods Month.  Soybeans (edamame) have long been a popular substitute for meat and they provide a source for protein, iron, and calcium–something many people who avoid meat and/or dairy may lack.  Soybeans are made into a number of different food products, making them quite versatile.  These include:
Miso (a sweet, flavorful paste)
Soy flour
Soy meat alternative (think "garden burgers")
Soy milk
Soy dairy free products
Soy nut butter
Soy protein isolate (a dry powder food ingredient)
Tempeh (a tender white cake of cooked soybeans)
Textured soy protein
Tofu (soybean curd that is like a soft cheese)
Edamame (immature soybeans in their pods)
If you've never had soyfoods other than a "veggie" or "soyburger," I've got some great recipes that will have you rethinking your idea of what soyfoods look like. Let's start with Kale and Couscous Tofu Bowls with Orange Tahini Dressing.  These bowls are a colorful and hearty meal. The tofu is marinated and then roasted in the oven.  Couscous, wilted kale, tomatoes, and diced avocado complete the contents of your bowl.  A zesty dressing is made from tahini, orange juice, honey, sesame oil, white wine vinegar, sriracha, and salt/pepper to taste.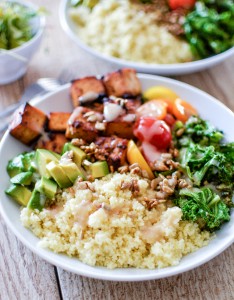 Courtesy of Cooking and Beer
You'll never miss the meat in these Black Bean Tempeh Tacos.  You'll crumble the tempeh and mix with taco seasoning, diced onion, and garlic.  Saute in a heated pan for about 8-10 minutes and then add your black beans and cook until heated through.  Assemble your tacos and top with pico de gallo, lettuce, tomatoes, cilantro, and avocado.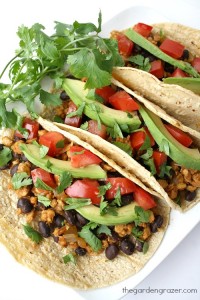 Courtesy of The Garden Grazer
Edamame Mango Salad is ideal for the Summer months.  Mangos, edamame, red onion, corn, black beans, basil, avocado, garlic, apple cider vinegar, olive oil, red wine vinegar, lemon juice, salt, and pepper are combined together for this sweet and savory salad.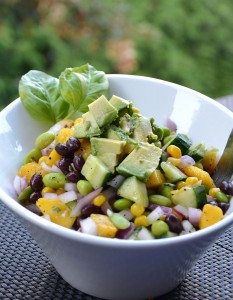 Courtesy of Running on Real Food
Enjoy and I'll be back next week with some tips to get your spring garden started.
See all posts