The summer season means more barbeques.  While you might traditionally think burgers, hot dogs, or steaks when you think of grilling, don't leave out fruit and veggies the next time you decide to cook out.  Most fruit and vegetables can be grilled, either directly on the grill itself, or by using grilling baskets for smaller or cut up produce  This week, I've collected a few of my favorite grill recipes I think are perfect for the season.  Check out the Fruits & Veggies–More Matters website for more ideas on grilling fruit and vegetables.
Like corn on the cob?  If so, you've got to try this recipe for Grilled Mexican Street Corn.  You'll need six ears of shucked, yellow corn.  In a medium bowl, combine mayonnaise, chopped cilantro, minced garlic, and a pinch of cayenne pepper.  Once your grill is heated, grill the corn so it is slightly charred on all sides.  Working with one cob at a time, brush each ear of corn with the mayonnaise mix so it is coated and then roll in finely crumbled Cotija cheese.  Transfer to a serving platter and sprinkle corn with a little chili powder and more cilantro.  Serve with lime wedges if desired.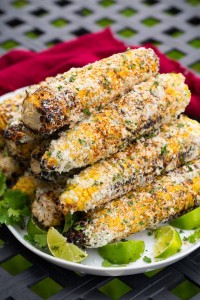 Courtesy of Cooking Classy
Using skewers are another great way to grill fruit and veggies like this recipe for Balsamic Garlic Grilled Mushroom Skewers.  You'll need two pounds of white mushrooms, cut into 1/4 inch slices.  Marinate them in a mixture of balsamic vinegar, soy sauce, chopped garlic, chopped thyme, and black pepper for at least 30 minutes.  Skewer the mushrooms and grill over medium-high heat until tender and slightly charred.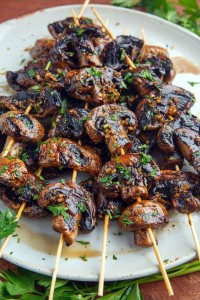 Courtesy of Closet Cooking
Think about grilling your dessert, like this recipe for Grilled Pineapple with Honey Drizzle.  Slice a fresh pineapple into rounds and grill on medium heat about 3-5 minutes on each side until golden brown.  Combine honey and cinnamon and drizzle over grilled pineapple.  You've got a simple, yet delicious summer dessert.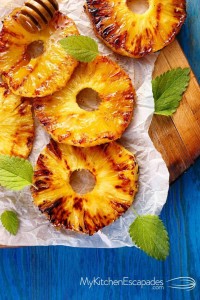 Courtesy of My Kitchen Escapades
I'm back next Monday with some healthy flatbread recipes.
See all posts