Vegan macaroni and cheese!? Yup. Mac and cheese without the cheese. A decadent, velvety cheese sauce that easily coats your pasta shells and broccoli nooks and crannies. If you haven't tried a vegan cheese sauce before, you'll love this healthy, vegetable-packed recipe. The sauce gets body from both cauliflower and cashews. The cauliflower lightens the sauce while the cashews provide richness. There's also nutritional yeast, dry mustard, tomato paste and turmeric.
As a new mom, I'm currently working on updating my rolodex of kid-friendly recipes. Mostly because I have a kid who will be starting solids in a little under 3 months. While this obviously won't be his first meal, I want to have a staple of kid-friendly recipes that are healthier than the fare I grew up with. So, I added steamed broccoli for both color and an extra vegetable serving.
To make blending even easier, cook the cashews along with the cauliflower. That way, when you add to a blender or food processor, the softened vegetables and cashews will purée to a silky smooth finish, without any grainy pieces.
Vegan Mac and Cheese with Broccoli
Ingredients
⅓ cup melted coconut oil (I like triple-pressed, refined oil for a lesser coconut taste)
¼ cup nutritional yeast
1 tablespoon tomato paste
1 tablespoon dried mustard
2 cloves garlic, minced
1 ½ teaspoons salt
½ teaspoon ground turmeric
4 ½ cups unsweetened almond milk
3 cups chopped cauliflower florets
1 cup chopped raw cashews
1 pound small pasta
1 tablespoon white vinegar
3 cups broccoli florets
Directions
Heat coconut oil in a large saucepan over medium heat until warm. Add in nutritional yeast, mustard, tomato paste, garlic, salt and turmeric and cook until mixed though, about 1 minute.
Whisk in the almond milk, then bring to a simmer over medium heat. Add in the cauliflower florets and cashews and let simmer until cauliflower is very soft, about 20 minutes.
Add the cauliflower-cashew mixture to a blender or food processor along with the vinegar and puree until very smooth, working in batches if needed. Depending on the power of your blender, this could take anywhere from 1-2 minutes. You don't want any grainy pieces of cauliflower or cashews, so make sure it's creamy and smooth before proceeding.
Meanwhile, bring a large pot (that's able to be fitted with a steamer) filled with salted water to a boil. Add the shells and cook, stirring often, until just tender, according to package time. Remove the shells with a slotted spoon (to keep the cooking water) along with 1/2 cup cooking water. Place the shells without the cooking water in a large bowl.
Bring the water back to a boil and fit with a steamer basket. Add the broccoli and cover, cooking until bright green and not overly tender, about 3-4 minutes.
Toss the hot macaroni with the cashew-cauliflower sauce until well coated. Season with salt and pepper, if needed/desired. Add in the broccoli and toss again, adding in any remaining cooking water to thin sauce, if needed. Serve hot.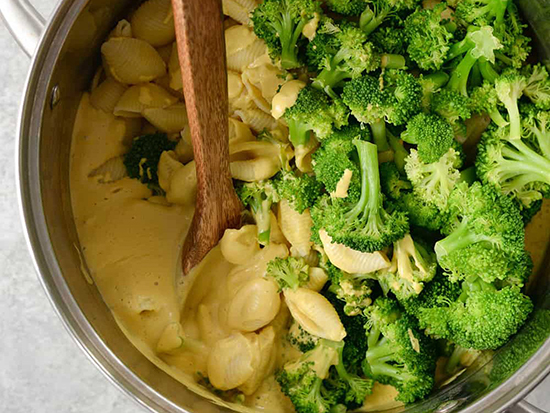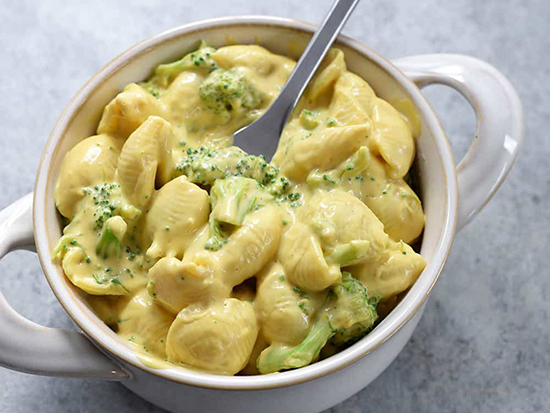 Nutrition Info
Per serving: 1/6th recipe: 526 calories, 23g fat, 782mg sodium, 70g carbohydrates, 9g fiber, 5g sugar, 18g protein