Roasted and braised comfort foods during the winter months are enjoyable, but every day and I start craving a little color and spunk in my meals. Festive in color this "throw in a blender" fast chilled soup is big on flavor and fires up the taste buds.
Watermelon in winter? You betcha. It's spring or summer somewhere letting our bodies as well as our taste buds benefit from variety! The U.S. produces watermelons from April well into November, with South American product filling in the deep winter months like December and January.
Thai Watermelon + Basil Gazpacho Recipe
Serves 10
Ingredients
2 cups – Watermelon, raw, diced, no seeds
1 medium – Red Bell Pepper, rough chopped
⅓ cup – Cucumber, peeled, raw
½ cup – Cherry or Grape Tomato
1 tbsp – Red Wine Vinegar
0.25 tsp – Coarse Kosher Salt
2 oz – Thai Basil Leaves, blanched/shocked
¼ cup – Extra Virgin Olive Oil
0.25 tsp – Crushed Red Pepper
2 tbsp – Water, very cold
Directions
Watermelon Gazpacho
Combine watermelon, bell pepper, cucumber, tomato, vinegar and salt into blender. Purée to an even consistency. Pour into large measuring cup or bowl. Chill in refrigerator until ready to serve.
Thai Basil Oil
Dip basil in boiling water for 30 seconds and immediately submerge in ice water.
Rinse out blender and combine basil, olive oil, red pepper flake, and 2 tbsp cold water. Blend until a green oil is created. Keep cold.
Serve gazpacho with Thai basil oil drizzled over the top and fresh watermelon cubes.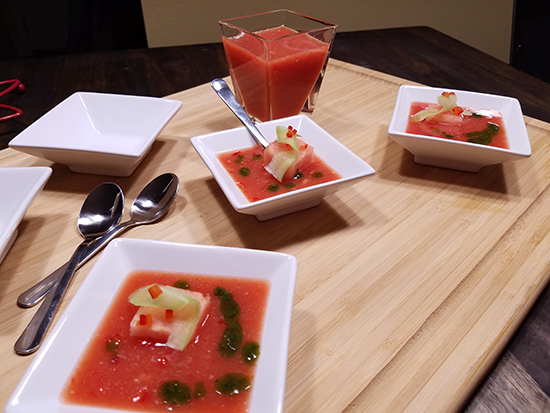 Nutrient Analysis
Calories: 63 kcal, Protein: 0.38 g, Carbs: 4 g, Total Fat: 6 g
Sat Fat: 1 g, Cholesterol: 0 mg, Sodium: 55 mg, Fiber: 0.44 g
Photo Credit: Andrew Dole