This Brussels sprout and kale salad is my vegetarian version of my mom's famous sprout salad. The one she brings to every family and friend gathering where she's often bombarded with request after request for the recipe. Yes, vegetables can be this good.
This salad, simple as it may be, is a total flavor and texture overload. Chopped, toasted almonds stand in for both croutons and bacon. They give a salty, crunchy bite that pairs perfectly with the thin, wispy strands of Brussels sprouts leaves. I know it's convenient, but resist the urge to buy prepackaged, shredded Brussels sprouts as they won't be fine enough. I use my food processor to shred the sprouts in 20 seconds flat. If you don't have access to one, use a mandolin or sharp knife to cut them as thin as possible.
I find that finely slicing vegetables is a winning approach for anyone who thinks they dislike them. So, I usually insist that even those who think they don't like kale or sprouts give this salad a try. To do a similar technique for kale, remove the tough stems and stack the leaves on top of each other. Tightly roll, then slice into beautiful kale ribbons. Toss everything together, add the salty umami toppings and citrus dressing and you've got a salad that everyone will be asking for.
Shredded Brussels Sprout & Kale Salad Recipe
Ingredients
2 cups Brussels sprouts, stems and outer leaves removed, thinly sliced
1 bunch Tuscan kale, stems removed and thinly sliced
1 large lemon, juiced
1 garlic clove, minced
1 teaspoon Dijon mustard
¼ cup extra virgin olive oil
½ teaspoon salt
½ teaspoon freshly ground pepper
¾ cup almonds, toasted and chopped
½ cup grated parmesan cheese
Directions
Remove the stems from the kale leaves and stack. Tightly roll into a large pile, starting at the end, finely shred the kale leaves so they look like ribbons. Place the kale and Brussels sprouts in a large bowl.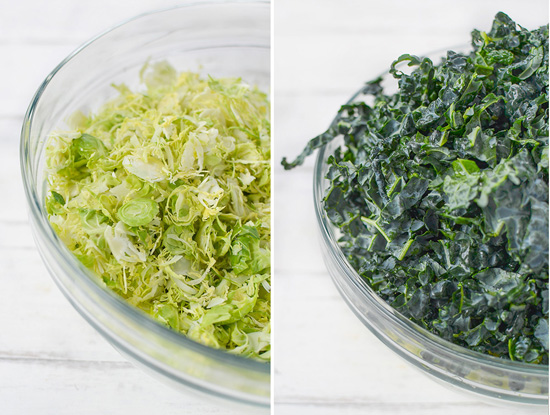 Whisk together the lemon juice, minced garlic clove and Dijon mustard. Combine until the mustard is dissolved in the liquid. Slowly whisk the olive oil into the lemon/Dijon mixture. Season with a generous pinch of salt and pepper.
Add the dressing to the kale/Brussels sprouts bowl and toss for about 3-4 minutes until the kale and Brussels sprouts are wilted. Gently toss in the chopped almonds and Parmesan cheese.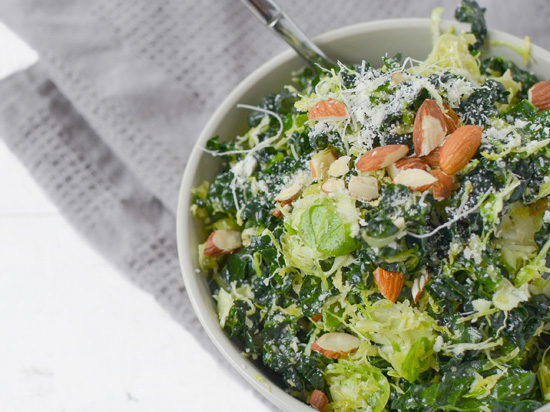 Nutrition Info
Per serving (4): 307 calories, 24g fat, 4.6g saturated fat, 10mg cholesterol, 470mg sodium, 576mg potassium, 15.4g carbohydrates, 5.2g fiber, 2.1g sugar, 11.6g protein
Photo Credit: Alex Caspero