As someone who loves to entertain, I'm always on the lookout for simple recipes that highlight the best of the season's produce. In the summer, that often looks like a platter of heirloom tomatoes with fresh mozzarella cheese. Now that the weather is cold and winter is upon us, my go-to recipe usually includes some type of roasted vegetable, either piled high on a platter or served as crostini.
Just like with vegetables, roasting fruit brings out its natural sweetness and creates a wonderful base for either sweet or savory dishes. Spread the fruit in a single layer in either a rimmed baking sheet or casserole dish to maximize browning and ensure even cooking. Tossing the grapes with a little olive oil ensures that you'll get a little sauce at the end, perfect for drizzling over the finished crostini.
Once you've tried this roasted-grape appetizer, experiment with other fruits. Figs, apples, pears, persimmons and fresh cranberries are all wonderful roasted.
Roasted Grape Thyme Crostini Recipe
Ingredients
3 cups seedless red grapes
7-8 sprigs fresh thyme
½ teaspoon salt
½ teaspoon freshly ground black pepper
2 teaspoons olive oil
4 ounces plain goat cheese, softened
1 small baguette, sliced into ½" slices (about 16-20 slices)
Directions
Preheat oven to 450°F.
Spread grapes in a casserole dish or roasting pan and drizzle with olive oil. Sprinkle with salt and pepper then lay thyme leaves on top. Gently toss together and place in the oven to roast for 10-12 minutes, until the grapes have reduced but are mostly intact. Discard the thyme stems.
While the grapes are roasting, slice the baguette and place in a single layer on a baking sheet. Once the grapes have been removed from the oven, put the bread in and toast for 1-2 minutes per side.
Spread a thin layer of goat cheese on the bread slices and top with roasted grapes. Serve immediately.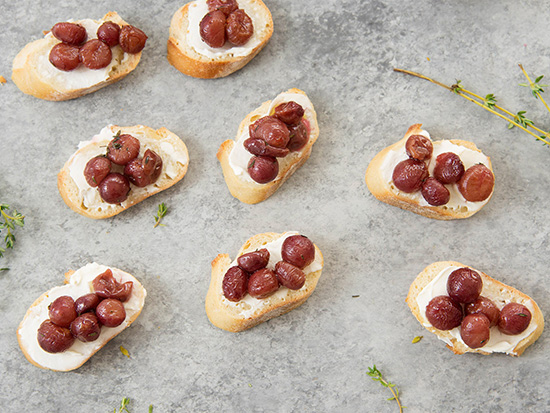 Nutrition Info
Per serving: (Per crostini) 76 calories, 3g fat, 1g saturated fat, 4mg cholesterol, 135mg sodium, 79mg potassium, 10g carbohydrates, 4g sugar, 1g fiber, 3g protein
Photo Credit: Alex Caspero