A delicious way to enjoy fresh apples? Homemade applesauce! I bought an Instant Pot a few months ago and have been trying to recreate my favorite slow-cooker recipes with it ever since. If you aren't familiar with the Instant Pot, it's a programmable pressure cooker designed to cook your favorite recipes in a fraction of the time. While it's not necessary for this recipe (I've included slow-cooker instructions), it's a great way to get healthy food on the table at lightning speed.
This chai applesauce is perfectly spiced, lower in sugar compared to store-bought versions and ready in just 15 minutes. When I think of apples this time of year, I tend to favor the soft, spiced variety that you usually find in cobblers, pies and other sweet desserts. This applesauce reminds me of those foods – soft, almost creamy apples with cinnamon, ginger, cardamom, cloves, nutmeg and vanilla.
I prefer my applesauce a little chunky, but if you like yours very smooth, transfer to a food processor after cooking and pulse to desired consistency.
Chai Applesauce
Servings: 12
Ingredients
8 apples, roughly chopped
1 teaspoon fresh lemon juice
¼ cup brown sugar
½ teaspoon cinnamon
¼ teaspoon ground ginger
¼ teaspoon ground cardamom
⅛ teaspoon ground cloves
⅛ teaspoon ground nutmeg
⅛ teaspoon salt
1 teaspoon vanilla extract
1 cup water
Directions
Place all ingredients in the base of the Instant Pot.
Cook over high pressure for 8 minutes. Quick-release or slow-release when finished.
Using a potato masher or wooden spoon, mash the apples to desired consistency.
Transfer to a bowl and let cool completely. Enjoy as is (also fantastic mixed with a bit of yogurt for breakfast.)
No Instant Pot? No problem. Place all ingredients in the base of a slow cooker and cook on low for 6 hours. Mash if desired, cool and serve.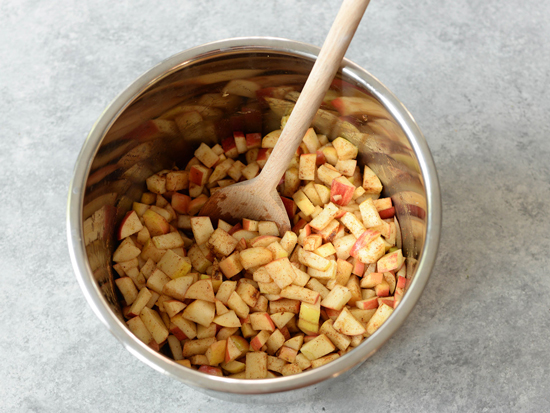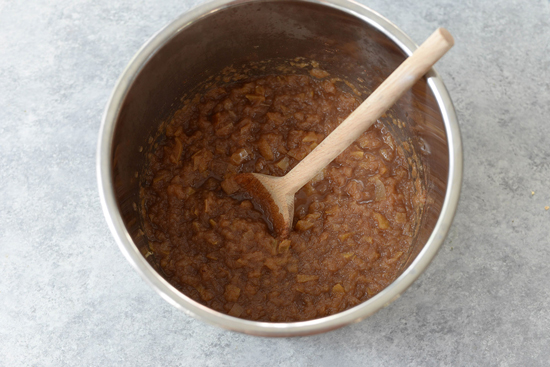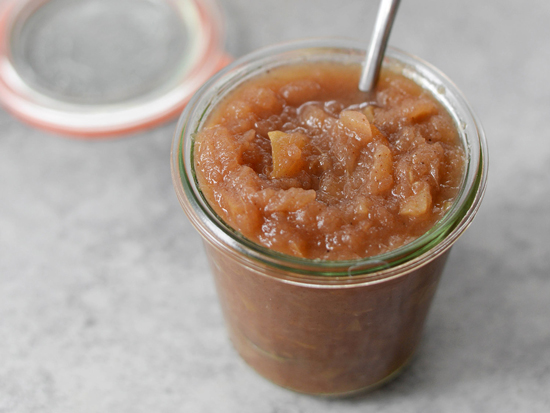 Nutrient Analysis
Per serving: (roughly ~1/2 cup) 67 calories, 0g fat, 0g saturated fat, 0mg cholesterol, 26mg sodium, 106mg potassium, 17g carbohydrates, 14g sugars, 2g fiber, 0g protein
Photo Credit: Alex Caspero