Lighten up December meals with a festive, budget-friendly vegetable and fish stew. One of my favorite Italian dishes next to good old fashioned spaghetti is a bowl of cioppino. Cioppino is often thought of as expensive and hard to make, but it's nothing more than a fancy name for fisherman's stew that can be made on a slim budget.
Using frozen white fish filets, canned tomato purée and some clam juice as the base, there's nothing expensive about it. In place of the expensive clams, mussels, and shrimp, I used zucchini and cauliflower. The nifty trick with cauliflower is breaking it up into long thin florets, giving it a meaty consistency that pairs well with the fish (just like shrimp would, but at a fraction of the cost!).
Hearty Vegetable & Cod Stew
Serves 6
Ingredients
1.5 lb – Cod, frozen, cooked
2 cups – Cauliflower, raw, trimmed into small florets
28 oz – Tomato Purée
1 tbsp – Extra Virgin Olive Oil
2 cups – Clam Juice
1/2 tbsp – Thyme, fresh, chopped
3 cloves – Garlic Cloves, peeled, minced
2 tbsp – Shallot, small diced
1 medium – Zucchini, medium diced
Directions
Place Dutch oven or large pot over medium/low heat.
Add olive oil, thyme, garlic, and shallot. Sweat over low heat until aromatic (begins to smell good).
Add small cauliflower florets and cook for 5 minutes, stirring occasionally.
Add zucchini and cook an additional 3 minutes.
Add clam juice and tomato purée. Stir to mix well and settle vegetables.
Place frozen fish filets into tomato sauce, pressing them down so they are almost completely covered.
Bring to a simmer, cover, and cook until fish is cooked through – 20-30 minutes.
Uncover, taste, add additional salt as needed.
Ladle over pasta, rice, or eat as a stew.
Garnish with thyme, red pepper, parmesan cheese if desired.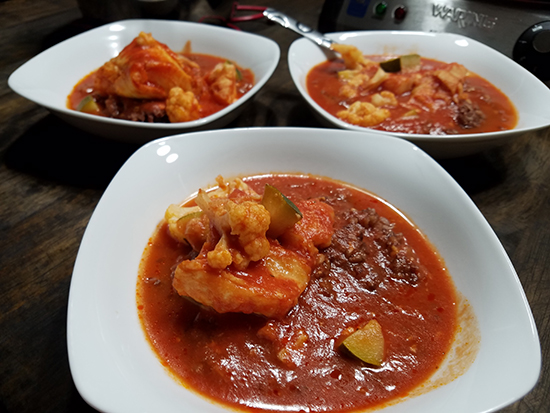 Nutrient Analysis
Calories: 174 kcal, Protein: 23 g, Carbs: 12 g, Total Fat: 3 g
Sat Fat: .5 g, Cholesterol: 48 mg, Sodium: 292 mg, Fiber: 2.8 g
Photo Credit: Andrew Dole