It's no secret that I'm a big fan of pasta, especially pasta salads. This light side dish is perfect for ushering in spring. It's packed with grilled asparagus, tomatoes and onions tossed with chewy pasta and a tangy lemon and caper dressing.
For convenience, I use the grill pan on my stove. Sure, it doesn't give the vegetables quite the same smoky flavor that a charcoal grill provides, but it makes this dish come together in less than 30 minutes.
The moment asparagus is in season, I eat it at least a few times a week. At the grocery store, don't worry about the width of the asparagus as size isn't an indicator of quality or flavor; thick asparagus is just more mature than the thin variety. Instead, look for bright green or violet-tinged spears with firm but not limp stems. Avoid stalks that appear woody. Make sure the tips are closed and compact. When the bunch is squeezed, it should squeak.
Grab a bunch of asparagus, a few tomatoes and start grilling this delicious pasta salad. Don't omit the parsley, mint and capers – the combination together is the key to this bright and easy recipe. It can be made ahead of time, and tastes best at room temperature.
Grilled Asparagus Pasta Salad
Ingredients
1 cup uncooked orzo pasta
1 bunch asparagus, tough ends removed
3 roma tomatoes, sliced in half
1″ slice red onion
2 tablespoons drained caper berries
2 tablespoons fresh lemon juice
½ teaspoon Dijon mustard
1 tablespoon maple syrup
¼ cup olive oil, plus more for grilling
½ teaspoon salt/freshly ground pepper
¼ cup chopped parsley
2 tablespoons chopped mint
¼ cup goat cheese crumbles (optional)
Directions
Heat a oiled grill pan or grill on medium heat.
Bring a medium pot of salted water to a boil and add the orzo. Cook until just al dente according to package directions. Drain and lightly rinse. Place into a large bowl and set aside.
3. Grill the asparagus spears, halved roma tomatoes and slice of onion until tender with a few char/grill marks. Remove from heat and chop the asparagus into 1? pieces, tomatoes into bite-size pieces and onion into a small dice.
4. Add the vegetables into the bowl with the orzo. Whisk together the capers, lemon, Dijon, maple syrup, salt and pepper. Slowly whisk in the olive oil to create a dressing, then toss with the vegetables and orzo. Add the herbs and toss again. Season to taste for salt and pepper.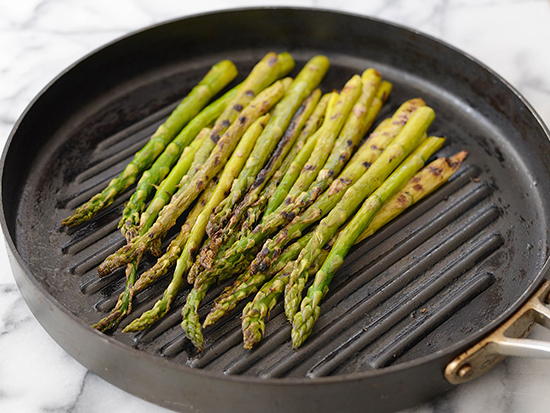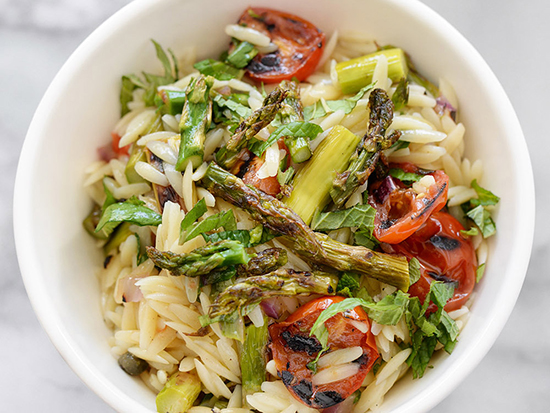 Nutrition Info
Per serving: (1/4th recipe without cheese): 281 calories, 14g fat, 2g saturated fat, 417mg sodium, 33g carbohydrates, 8g sugar, 5g fiber, 7g protein
Photo Credit: Alex Caspero