Over the past few holiday seasons, I've experimented with creating my own green bean casserole from scratch – green beans, homemade mushroom gravy and faux-fried crispy onions. While purists may scoff at the lack of jarred soup and canned onions, this version not only tastes better, it's healthier too.
To start, you'll create your own version of crispy onions. Make sure to slice them as thinly as possible. If you have a mandolin, this is the place to use it. If not, just try to make them as thin as possible using a sharp kitchen knife. Then, toss with flour and breadcrumbs and place in the oven until crispy.
Instead of using creamed mushroom soup, this version relies on a quick gravy using fresh mushrooms and soy milk. I prefer using soy milk in this version to keep the dish dairy-free for everyone to enjoy, but feel free to use regular, low-fat milk instead.
The uncooked version freezes well, so feel free to make this one ahead of time. If you do, you'll want to increase the amount of liquid to 1 ¼ cups each of vegetable broth and milk.
Green Bean Casserole Recipe
Ingredients
Crispy Onions
2 medium onions, thinly sliced
¼ cup all-purpose flour
2 tablespoons bread crumbs (regular or panko)
½ teaspoon salt
olive oil cooking spray
Casserole
1 pound fresh green beans
2 tablespoons butter (dairy-free for vegan version)
¼ cup sliced shallots
½ teaspoon salt
½ teaspoon freshly ground pepper
½ teaspoon dried thyme
2 cups finely chopped mushrooms
¼ cup all-purpose flour
1 cup vegetable broth
1 cup soy milk
Directions
Make the crispy onions. Preheat the oven to 475° F. Combine the sliced onions, flour, breadcrumbs and salt in a bowl until well coated. Place in a single layer on a greased baking sheet, generously spray with olive oil cooking spray and cook until crispy, about 25-30 minutes, stirring halfway through.
Steam the green beans until just tender on the stove or in the microwave, set aside.
Heat butter in a large skillet over medium heat. Add the shallots and cook for another 2-3 minutes until soft. Add in mushrooms and season with salt and pepper. Cook for about 10 minutes until mushrooms are browned and liquid has evaporated.
Sprinkle flour over and cook for 1 minutes, then whisk in vegetable broth. Stir together and cook until thickened. Add in the milk and whisk again, then reduce heat to low and cook until bubbly. Remove from heat and add in green beans.
Reduce heat to 400° F. Transfer mixture to a lightly greased casserole dish (or, keep in the skillet if it's oven-safe). Top with onions and cook another 15 minutes until browned.
Remove from heat and serve immediately.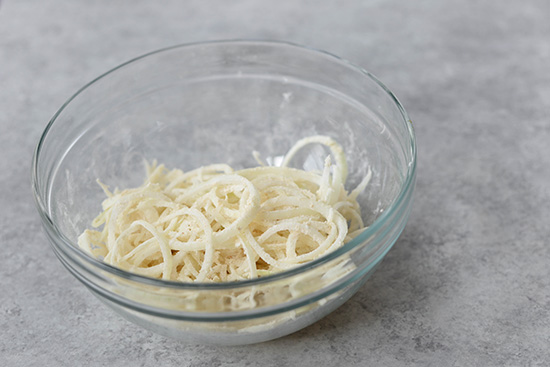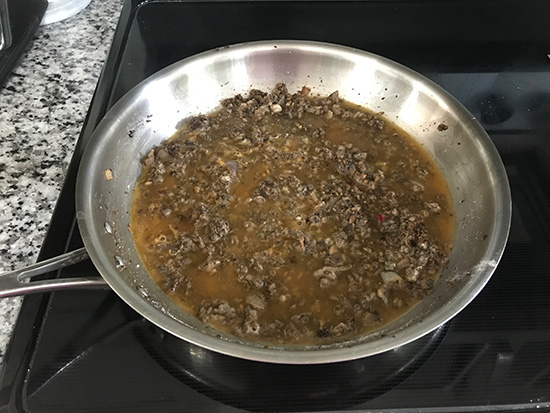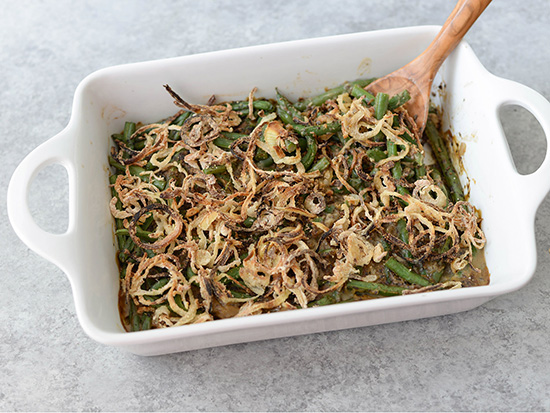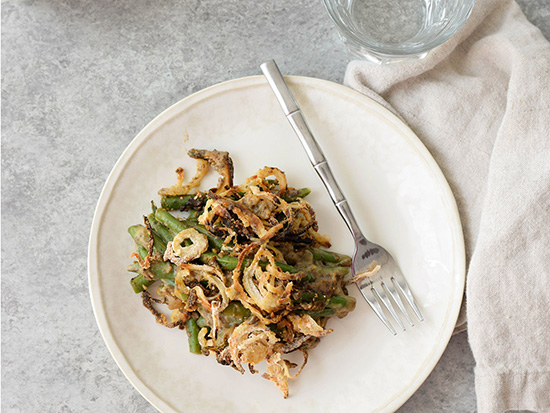 Nutrition Info
Per serving: (6) 158 calories, 5g fat, 3g saturated fat, 10mg cholesterol, 557mg sodium, 425mg potassium, 25g carbohydrates, 8g sugar, 4g fiber, 6g protein
Photo Credit: Alex Caspero