Whenever I'm hosting a dinner party, it's a good bet that I'll end up serving some type of endive boat for an appetizer. Besides looking gorgeous and ethereal on passed platters, endive boats are light and simple, allowing my guests to enjoy a few appetizers as they arrive, leaving plenty of room for dinner.
The great thing about endive is that almost any topping works. The slightly bitter green leaves pair perfectly with buttery nuts, cheeses, avocado, and/or seafood like smoked salmon or crab. For a no-fuss snack, I arrange a bowl filled with endive leaves next to a smaller container of prepared hummus. It's easy, delicious, and works for just about any dietary preference.
You can find endive in most well-stocked grocery stores, often near the lettuce. A member of the chicory family, it's a refreshing vegetable that tastes great cooked or raw, like shown here. Whether you are hosting this holiday season or just looking for new appetizer options, try one or all three of these easy endive recipes.
Apple and Blue Cheese Salad on Endive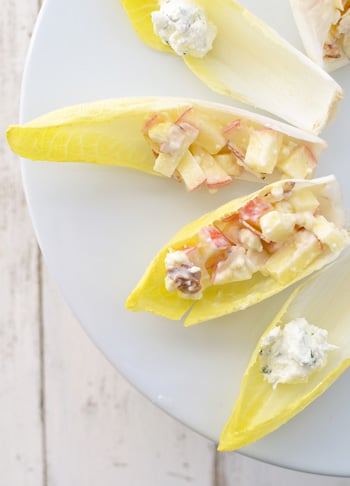 Ingredients
1 cup diced red apple
1/2 cup crumbled blue cheese
1/4 cup chopped almonds, toasted
2 tablespoons mayo
1 tablespoon fresh lemon juice
4 Belgian endives, leaves separated
Directions
Combine the diced apple, blue cheese, almonds, mayo and lemon juice with a pinch of salt and pepper. Place endive on a serving platter and place a small amount on the end of the endive leaves.
For easier prep, this salad can also be made up to an hour ahead of time.
Endive with Hummus and Smoked Paprika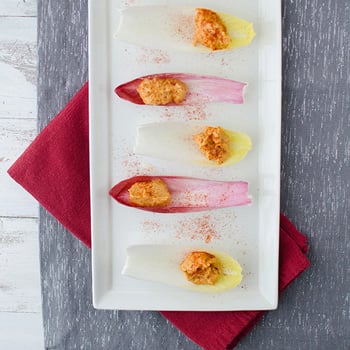 Ingredients
1/2 cup prepared hummus
1 teaspoon smoked paprika
4 endives, leaves removed
Directions
Spread separated endive leaves and place on a serving platter. Dollop with hummus and sprinkle on smoked paprika.
Herbed Goat Cheese Endive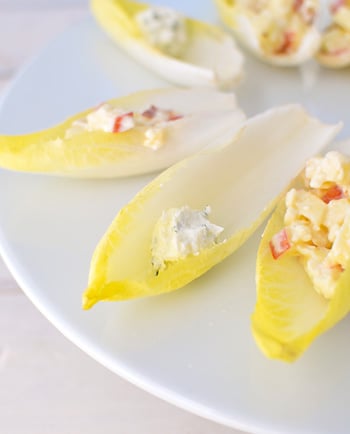 Ingredients
4 ounces goat cheese
1 garlic clove, minced
2 tablespoons minced fresh chives
1 tablespoon extra virgin olive oil
Directions
Soften the cheese at room temperature for 15 minutes. In a small bowl, combine the cheese, minced garlic, herbs and oil together. Place in a bowl and serve with endive spears
Photo Credit: Alex Caspero