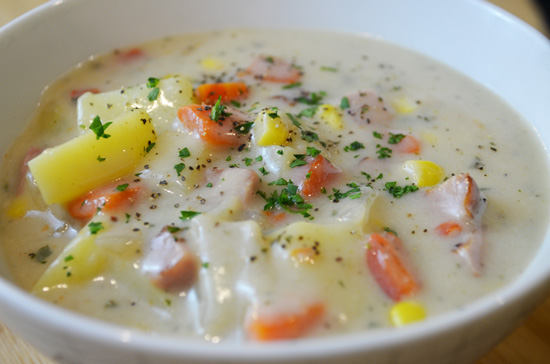 I know what you're thinking … there must be so many calories in this creamy chowder you can't possible eat it. Wrong! This recipe uses 1% milk and lots of vegetables for a 225 calorie per serving bowl of winter yumminess.
Inexpensive, freezable, easy to reheat, and full of vegetables – the upsides to this recipe are many. Make it your own with simple substitutions with whatever is on hand.
Shredded chicken breast and chicken stock make for a great creamy chicken chowder. Feel free to use bacon instead of ham or remove the meat completely.
The Key to All Potato-Based Recipes? Select the Proper Potato
For soups and stews, waxy variety potatoes are best – they have less starch and hold their shape when cooked. Yukon gold, yellow or golden potatoes, and red potatoes are waxy. Waxy potatoes are also best for potato salads, au gratins, and roasted wedges.
The Idaho, baker, or russet potato is best for baking, mashed, puréed and French fried potatoes. If you want fluffy, light, or crispy when fired … this is your tater.
Corn & Potato Chowder
Serves 6
225 Calories per serving
Ingredients
1 medium – Carrot, Raw, Medium
1 medium-stalk – Celery, Raw, Medium Stalk
½ cup – Bell Pepper, Chopped
7 oz – Ham, Black Forest, smoked
1 tsp – Seasoning
1 tsp – Thyme, Fresh
¼ cup – Parsley, Raw
1 cup – Whole Kernel Corn, Frozen Fresh
1 lb – Yukon Gold Potatoes
¼ cup – All Purpose Flour
2 tbsp – Butter, Regular, Unsalted
3 cup – Cooking Stock, Vegetable, Unsalted
2 cup – Milk, Cow's, 1%
Procedure
1. Heat a 4-6 qt sauce pot.
2. Add diced ham and brown. Remove and reserve.
3. Lower heat and add butter. When melted add carrot, onion, celery, bell pepper and old bay.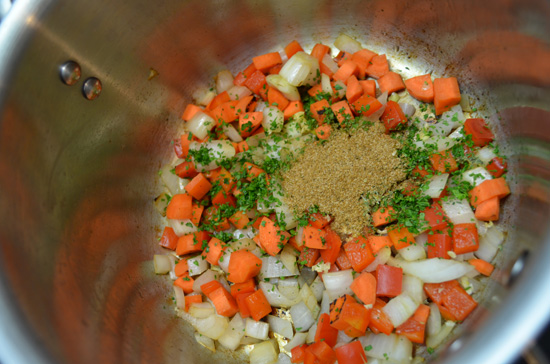 4. Stir frequently until onion turns translucent and spices are aromatic.
5. Add flour to vegetables and stir to mix well.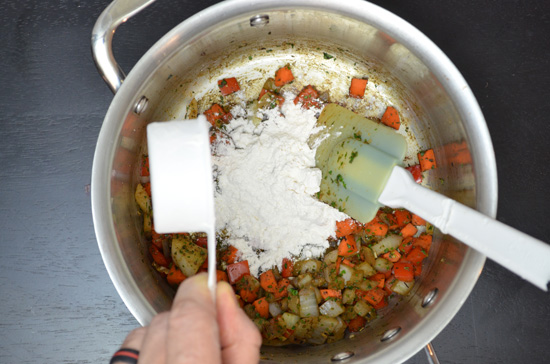 6. Combine milk and stock. Stream mixture slowly while whisking into flour and vegetable mixture. It should form a thick paste and slowly begin to loosen as more liquid is added.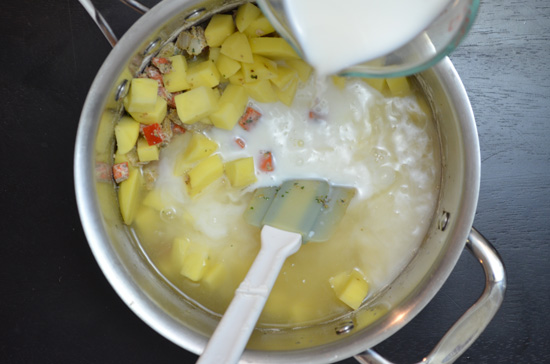 7. Add potato, cover partially and simmer until potatoes are 50% tender 10-12 minutes.
8. Add corn, ham, and 1 Tbsp of cut parsley.
9. Taste and season with salt and black pepper.
10. Simmer additional 10-15 minutes until potatoes are tender and chowder has thickened.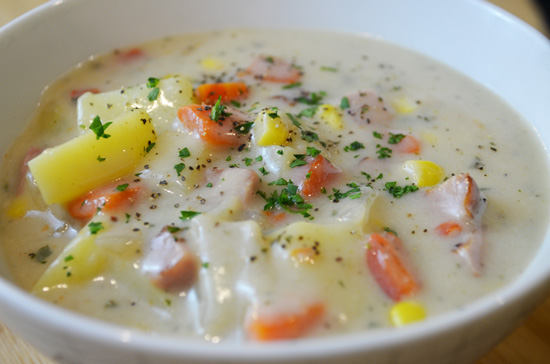 Nutrient Analysis
Calories: 225 Protein: 12.85 g Carbs: 31.67 g
Total Fat: 5.41 g Sat Fat: 3.18 g Sodium: 625.25mg
Fiber: 1.680 g
Photo Credit: Andrew Dole