Alex Caspero, MA, RD, CLT
Everyday Chef, Fruits & Veggies—More Matters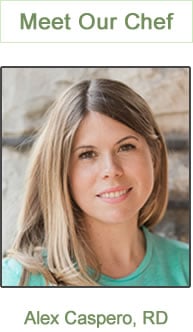 While I love how easy and simple kale chips are to make, they aren't always foolproof. In my quest for the perfect chip, I've suffered through many batches of burnt or soggy ones. To prevent you from making the same mistake, I'm sharing five tips on creating perfect kale chips every time.

Think of these as a healthier option to Doritos. Crunchy, cheesy and so addictive. Betcha can't eat just one applies to these kale chips as well!

Tips for Perfectly Baked Kale Chips
Wash and thoroughly dry the leaves before seasoning. If the leaves are too wet, the chips will steam and turn out soggy, not crispy. I wash my leaves and then use a salad spinner to remove any excess water.
Remove the stems and tear the leaves into equal size portions. To prevent as much uneven cooking time as possible, tear the leaves into similar sizes.
Massage with oil. Treat kale chips the same way you would treat a kale salad, by massaging a bit of oil into each leaf. Not only does this distribute flavor, but it also makes them incredibly crispy! Oil will also help the spices stick to the leaves.
Spread kale in a single layer on a baking sheet. You want to prevent as much steam build-up as possible, so spreading the kale in an even layer prevents soggy chips.
Let cool on the baking sheet. Remove the kale chips and let cool on the sheet pan for 2-3 minutes. Adding in this extra waiting time allows the chips to firm up to their fullest potential. Then, dig in!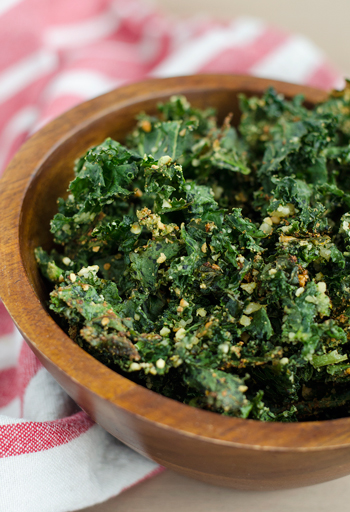 Cheesy Baked Kale Chips
Serves 2-4 as a snack

Ingredients
1 large bunch kale, stems removed, washed and dried
2 tablespoons olive oil
¼ cup cashews
1 teaspoon garlic powder
4 tablespoons nutritional yeast (found online or health food stores)
1 tablespoon fresh lemon juice
¼ teaspoon each salt and black pepper

Directions
Preheat oven to 300° F.

Tear kale leaves into similar size pieces and add to a large mixing bowl. Drizzle in oil, then use your hands to massage the oil into the kale.

Add the cashews, garlic powder, nutritional yeast, lemon juice and salt and pepper to the base of a food processor or blender. Pulse until fine but not mushy.

Remove the spice mixture from the food processor or blender and add the kale bowl. Toss with your hands, trying to coat as much as the kale as possible.

Place the kale in a single layer on 2-3 baking sheets (depending on the size of your pans), taking care not to pile the kale leaves on top of one another.

Bake for 10 minutes, rotate the pan and bake for another 8-15 minutes until kale begins to firm up. Keep an eye on things to make sure the kale isn't burning around the edges.

Remove from oven and let cool for 20-30 minutes.
Enjoy immediately!

Photo Credit: Alex Caspero