These 3-ingredient Popsicles are an easy and refreshing way to enjoy a hot summer day. Wholesome enough for breakfast, but sweet enough for dessert, these treats are fun for adults and kids alike. If you like yogurt and fruit together, then you will love these yummy pops.
I know I often use the word easy to describe my recipes, but these really are one of the easiest desserts you can make. They are also interchangeable, depending on what fruit you have on hand. As long as it tastes good with yogurt, it will work in these Popsicles! I happen to have a soft spot for tart blueberries this time of year, so I used those. Besides being rich in antioxidants, I love how beautiful the bright blue pops look.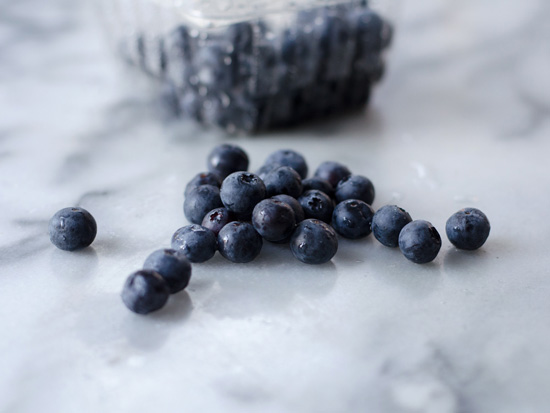 If you don't have a Popsicle mold on hand, this recipe also works the old-fashioned way of pouring the filling into paper cups and anchoring with wooden Popsicle sticks. When ready to go, simple peel off the paper cup. Although any Popsicle mold will work, I'm fond of the silicone ones for easy removal. To unfreeze, either let the mold sit at room temperature for a minute or two or place the mold into hot water for 10 seconds before removing.
Blueberry Yogurt Popsicles
Makes 8 Popsicles, depending on mold size
Ingredients
1 cup plain or vanilla yogurt
1 cup fresh blueberries (can sub 1 cup thawed, frozen blueberries)
2 tablespoons honey
Popsicle molds
Directions
Place the yogurt, fruit and honey in a blender.
Blend to desired consistency and pour into prepared Popsicle molds. Place in the freezer until frozen solid, about 4-5 hours. To unfreeze, place the molds in hot water for 10 seconds, then pull out.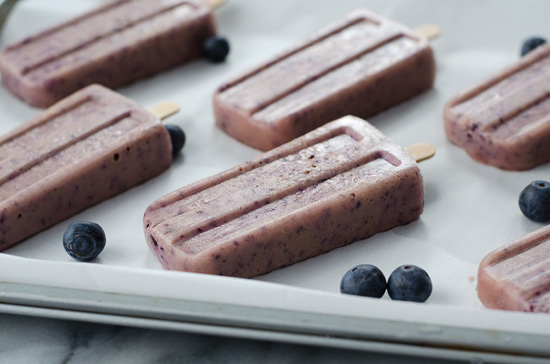 Nutrition Info
Per Popsicle: 48 calories, 0.4g fat, 2mg cholesterol, 22mg sodium, 88mg potassium, 9.1g carbohydrates, 8.3g sugar, 1.9g protein
Photo Credit: Alex Caspero