The color alone is enough to make me crave this smoothie. Shocking pink, a vibrant contrast to the gray February mornings, gives a hint to the ingredients inside. Freshly grated beet and frozen raspberries, both magenta in color and high in antioxidants. Puréeing the fruits and vegetables into the smoothie also adds a few grams of fiber, essential for a filling breakfast or snack.
If the thought of adding beets into your smoothie sounds weird, I understand. I had a hard time convincing my husband to take a sip after making this over the weekend. While he thought the smoothie looked good, he was hesitant after I told him what was inside. A few sips later, he was convinced. The tart berries, creamy milk and sweet honey all but mask any beet flavor. For a punch of color – and nutrients – to your morning, give this smoothie a try!
Beet + Raspberry Smoothie Recipe
Serves 1
Ingredients
¾ cup almond milk (or regular milk)
¾ cup frozen raspberries
¼ cup grated beet (from about 1 small)
1 tablespoon honey
1 teaspoon chia seeds
Place all ingredients in a high powered blender and purée until smooth. Serve immediately.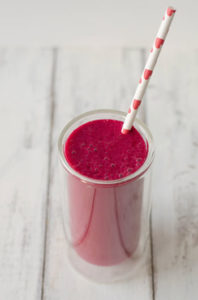 Credit: Alex Caspero