Different regions of the country are known for various foods and flavors that the locals feast on.  For example, I live outside Philadelphia and the region is known for the "Philly Cheesesteak."  Similarly, if you travel to the southern states, you'll find a multitude of culinary delights, especially during the summer months when produce is readily available.  Of course, this produce plentiful across the nation right now, so it's easy to try one of these southern favorites for your next gathering or summer supper.
Cucumbers and tomatoes are common back yard garden items and as they come to harvest, you can find yourself with too much of this delicious produce on your hands.  Instead of preparing your usual green salad, try this Cucumber, Tomato and Onion Salad.  It's light and perfect as a side for dinner and is great to take along for a cookout.  And added bonus is your can throw this salad together in 15 minutes.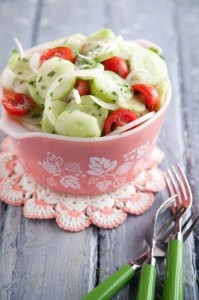 Photo courtesy of The Food Network
Okra is an especially popular veggie in the south and is quite nutritious.  It's an excellent source of Vitamin C, as well as a good source of folate, magnesium and fiber.  Okra can be prepared many ways and goes really well with stewed tomatoes, but one of the most common ways to enjoy it is by frying.  Since frying okra adds unnecessary calories and fat to this low calorie and fat-free veggie, I've found a recipe for Crunchy Baked Okra that provides the flavor without the guilt.  The okra pieces are coated with cornmeal and panko breadcrumbs, plus a little bit of parmesan cheese to boost the flavor.  Just pop them into your 400 degree oven for 15-20 minutes.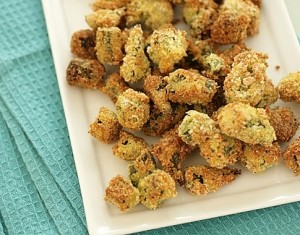 Photo courtesy of Sing for Your Supper
Tomato pies are a traditional southern dish.  Again, when your tomato plants are at their peak of production, this is a wonderful way to use the fresh, right-off-the-vine fruit.  Tomato Pie with Basil and Gruyere Cheese is a beautiful adaptation of the traditional dish.  Gruyere (or Swiss if you prefer) and parmesan cheeses are blended with fresh thyme, basil, Vidalia onion and the tomatoes.  This recipe also has you make your own crust (you can always buy a store bought version if you choose).  This would make a terrific Meatless Monday entrée–just pair it with a green salad and some sliced, fresh summer fruit for a delicious supper.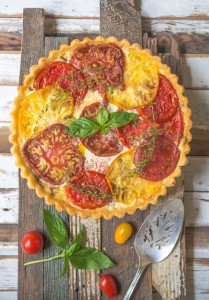 Photo courtesy of Southern Boy Dishes
I hope you'll try these flavors from the south this season and I'll be back next week with some recipes designed to keep you away from your stove during those hot days.
See all posts