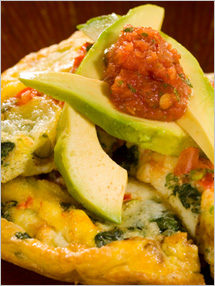 This frittata is easy and packed with flavor. Feel free to experiment with different combinations of vegetables.
Makes 3 servings
3 eggs

1/8 tsp salt

1/8 tsp freshly ground pepper

2 tsp canola oil

1 cooked black bean vegetable burger, roughly crumbled

1/2 cup cooked spinach

1/4 cup fresh or frozen corn kernels

3 Tbsp shredded low-fat Monterey jack cheese

5 Tbsp mild fresh salsa

1 cup avocado, small dice

2 slivered green onions

1/4 bunch fresh cilantro picked into sprigs
1. Preheat the oven to 350 degrees F.
2. Whisk together the eggs, salt and pepper.
3. Heat the oil in a small, non-stick, oven-proff skillet over Medium-High heat.
4. Pour the eggs into the pan all at once.
Stir vigorously while shaking the pan until barely set.
Reduce heat to low.
5. Add the crumbled burger, spinach, corn and cheese to the top of the egg mixture.
Place the pan in the preheated oven for 2-3 minutes until the eggs set and the cheese melts.
6. Remove the frittata from the oven and transfer to a clean cutting board.
Cut the frittata into three pieces.
7. Dot the top of each piece with the salsa, diced avocado and slivered green onions.
Garnish with cilantro sprigs and serve at once.
Recipe by The Culinary Institute of America, developed for Fruits & Veggies – More Matters

Search our database for even more recipes!