Here's a fun fact: According to the USDA, each American eats 112 pounds of potatoes each year.  Pretty impressive, right?  I suppose that's one reason why February is Potato Lover's Month.  The potato is really an amazing veggie–it's incredibly versatile, filling, and quite nutritious.  Potatoes are fat free, sodium free, cholesterol free, high in vitamin C, and a good source of potassium.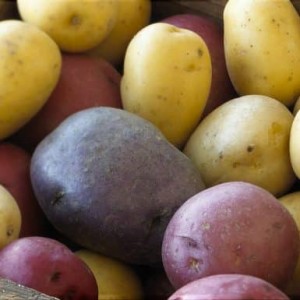 Courtesy of U.S. Potato Board
One popular potato recipe is potato soup.  The traditional version uses milk, heavy cream, and bacon or ham.  While the flavor is terrific, this is obviously not a low calorie/fat meal option.  If you're looking for an alternative, I've got a great recipe you'll want to try.  An added bonus is that this recipe is vegan–great for those who want to eliminate the meat and dairy completely. Plus, you'll add some chopped kale–more flavor and more nutrition.
Creamy Dairy Free Potato Soup with Kale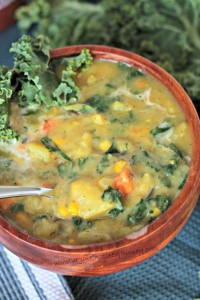 Courtesy of Veggie Inspired Journey
Ingredients:
2 cloves garlic, minced
1/2 onion, diced
2 ribs celery, diced
1 carrot, peeled and diced
1/2 cup frozen corn kernels
4 cups peeled and diced potatoes
3 cups vegetable broth
1/2 teaspoon dried dill
1/2 teaspoon celery salt
salt/pepper to taste
1 cup chopped kale
1/4 cup coconut milk
few dashes hot sauce

Directions:
Saute onion and garlic with 1-2 tablespoons of water in a soup pot for a few minutes until they soften.
Add carrot and celery and saute 3-4 more minutes, adding more water if necessary.
Add vegetable broth, potatoes, dill, celery salt, salt, and pepper.
Bring to a boil, reduce heat to low, and simmer for 15 minutes until potatoes are tender.
Using an immersion blender, puree 1/4-1/3 of the soup to create a thick, creamy base.
Add the corn and kale, stir to combine, and simmer 5 more minutes.
Remove from heat and add coconut milk.
Top off with a few dashes of hot sauce.
I'll be back next week with some great recipes featuring pineapple.
See all posts