Yesterday, March 26th, was National Spinach Day.  So, I'm a day late celebrating, but in my opinion you really never need a special day to celebrate this amazing veggie.  Spinach is really quite impressive, as it's classified as "high" or "excellent" in a number of nutrition benefits.  It is fat free, saturated fat free, cholesterol free, high in dietary fiber, high in vitamin A, high in vitamin C, high in iron, high in folate, along with being a good source of magnesium.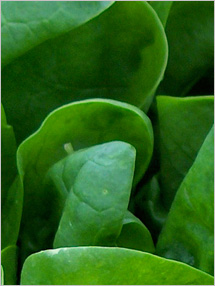 Courtesy of Fruits & Veggies–More Matters
Potato Spinach Lasagna from Fruits & Veggies–More Matters uses sliced potatoes instead of noodles for layering.  Fresh, baby spinach, chopped onion, non-fat ricotta cheese, part skim mozzarella cheese, and sodium-reduced pasta sauce are the remaining ingredients of this savory dish.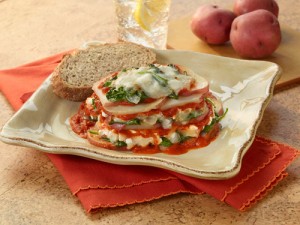 Courtesy of Fruits & Veggies–More Matters
Pesto is a great sauce that can be used for pasta, as a topping for chicken, or to as a dip for bread.  Spinach pesto is a variation on the traditional recipe.  You'll need fresh spinach, dried basil, cloves of garlic, olive oil, toasted pine nuts, sea salt, lemon juice, sugar, and Parmesan cheese.  Ingredients are blended until smooth in a food processor and stored in your refrigerator.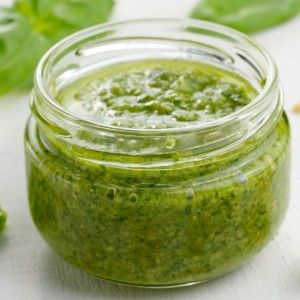 Courtesy of Nellie Bellie
Spinach and White Bean Soup is a delicious and hearty meatless meal option.  An added bonus is you can pull this together in 30 minutes!  Cannellini beans, orzo pasta, baby spinach, diced onion, garlic, olive oil, vegetable broth and herbs like basil, thyme, and parsley make up this soup.  Right before serving you'll add the juice of a lemon for extra zest.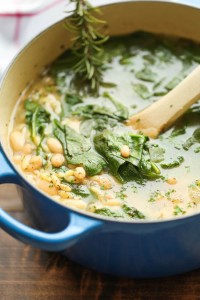 Courtesy of Damn Delicious
I'm back next week with a look at soyfoods and some ways to incorporate them into your diet.
See all posts