If you're like me, you probably had limited exposure to beets in your diet.  For me, it was restricted to the canned variety.  I had no idea how delicious this vegetable could be!  Baked, added to soup–you can use them just as you would any root veggie.  Beets are fat free, cholesterol free, low sodium, and an excellent source of folate.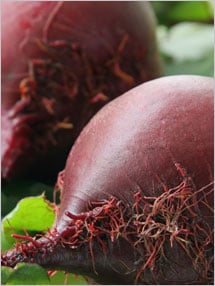 Courtesy of Fruits & Veggies
As an appetizer, try this recipe for Beet Bruschetta with Goat Cheese and Basil.  You'll boil the fresh beets, dice into bite sized pieces and mix with onion, sugar, olive oil, salt, pepper, and balsamic vinegar.  Toast French bread slices in the oven and top with a cream cheese spread you'll make that contains cream cheese and goat cheese.  Top with the diced beet mixture and a little chopped basil.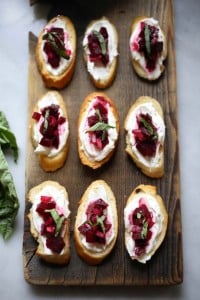 Courtesy of Feasting At Home
Another great appetizer or snack is Roasted Beet Hummus.  As the recipe title indicates, you'll roast the beets until soft.  Then add them, along with a can of chickpeas, tahini, garlic, lemon juice, lemon zest, cumin, and salt to a food processor.  Process for a few minutes and then slowly add olive oil until the mixture is creamy.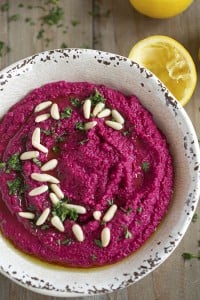 Eat Yourself Skinny
Colorful Beet Salad with Carrot, Quinoa and Spinach calls for raw beets finely shredded.  In addition, you'll use quinoa, fresh spinach, shredded carrot, edamame, chopped avocado, and slivered almonds for your salad.  A homemade dressing created from apple cider vinegar, lime juice, olive oil, cilantro, honey, Dijon mustard, salt, and pepper.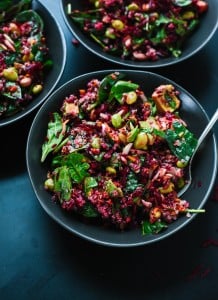 Courtesy of Cookie and Kate