One of spring's plentiful veggies is broccoli and, in my opinion, next to the potato it is the most versatile vegetable available.  Raw or cooked, in casseroles, soups or salads, this veggie is always delicious.  And, broccoli isn't short on the nutrition.  It's high in Vitamin C and folate, a good source of dietary fiber and potassium–all great reasons to feel good about making it a regular part of your diet.
Need more convincing about just how versatile broccoli is?  Here are just a few easy, yet flavorful ways to enjoy this veggie:
In a stir fry
As a topping for your baked potato
Eaten raw with a low-fat dip
Shredded as part of a slaw
Added to your pasta with some oil and garlic–top with a little parmesan cheese
As a healthy pizza topping
Added to your morning omelet
Kid friendly–add a little melted cheese and watch your little ones devour it!
Broccoli is its own star as well.  I've got a few recipes for dishes, which feature this vegetable that are simple to prepare and healthy.  The first is Garlic Parmesan Roasted Broccoli.  Broccoli, garlic, olive oil and parmesan are all you need to make this dish.  Roasting the broccoli at high temps does the trick and you're done!  This is a great recipe for busy weeknights.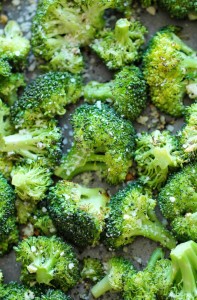 Photo courtesy of Damn Delicious
Next, we have a Broccoli Quinoa Casserole.  Broccoli is perfect for adding to casseroles since it holds up well when baking.  The quinoa in this recipe is a different twist and adds extra fiber and protein.  I also like that this version uses fresh spinach leaves and pesto, giving it a great Italian flavor.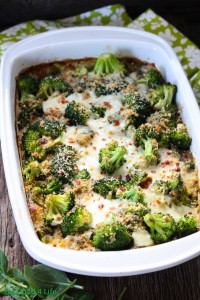 Photo courtesy of Eat Good 4 Life
Finally, broccoli is a great addition to salads.  There are a lot of variations, but I really liked this Asian Broccoli Salad with Peanut Sauce.  Along with the broccoli, it has cooked edamame, green onions, peanuts and sesame seeds.  The sauce is made from peanut butter, rice wine vinegar, soy sauce, honey and sesame oil.

Photo courtesy of Gimme Some Oven
Enjoy these recipes and I'll be back next week with some healthy dishes for your Passover table.
See all posts