September is All American Breakfast Month.  I love healthy breakfast foods at the traditional time of day (morning), but every now and then I enjoy serving breakfast foods at dinner time.  The key to taking breakfast foods to the dinner table is to focus on the heartier recipes.  And, that doesn't mean they need to be laden with sausage and bacon!  I've collected some great recipes that will have you making breakfast a regular dinnertime routine in your house.
This Cheesy Zucchini Quiche is one of my personal favorites.  I use store bought crust to make it simple, but feel free to make your own if you're so inclined.  It's packed with fresh zucchini, sliced onion and spices.  Add some low fat mozzarella, eggs and prepared mustard.  Not only does this quiche taste amazing, it's really easy to prepare.  Serve it with a salad and you've got terrific meal.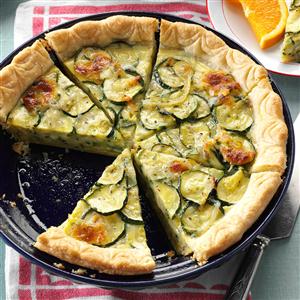 Photo courtesy of Taste of Home
If you love potatoes, you'll definitely go for Hashbrowns, Spinach and Tomato Pie.  It uses frozen shredded potatoes as the base.  Low fat mozzarella cheese, fresh spinach, beaten eggs and grape tomatoes, along with some spices are layered to complete the pie.  You can serve this with some turkey bacon and a fruit salad for dessert.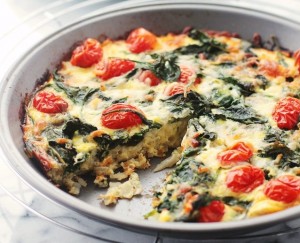 Photo courtesy of Diethood
Bell Pepper and Vidalia Onion Strata with Fresh Salsa is one of Fruits & Veggies–More Matters featured healthy plate recipes.  At only 240 calories per serving, this is the perfect dish for anyone watching his or her weight.  Pair it with a salad or some fruit and you've got the ideal light dinner.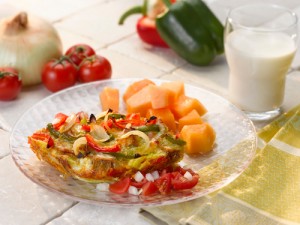 Another Fruits & Veggies–More Matters healthy plate meal is this Garden Frittata.  It's packed with veggies like red potatoes, onion, kale and bell pepper.  Eggs and seasonings are blended in to complete the dish.  Serve the entrée with some sliced fruit and low fat dairy.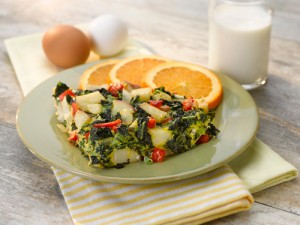 I hope these recipes help you expand breakfast dishes to your dinner table and incorporate more fruit and veggies into your breakfast meals.  I'll return next week with some entrees that are flavorful, filling and meatless.
See all posts