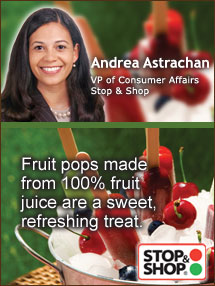 Summer activities are so much fun, it's easy for children to forget to drink the amount of fluids their bodies need to keep hydrated. Whether your kids are off to camp, the playground or pool, make sure they are drinking enough water and other fluids. Fruit and 100% fruit juice are a nutritious way to help stay hydrated too!

To encourage frequent fluid intake:
Start the day with a banana–apple smoothies for breakfast- for each person, blend ½ cup pure orange juice, ¼ cup low-fat milk, 1 banana and 1 chopped and peeled apple for a delicious breakfast.
Keep a pitcher of cold water or small sized water bottles in the fridge so little ones can help themselves.
100% juice boxes are a colorful, fun and portable way for kids to drink fluids.
Fruit pops made from 100% fruit juice are a sweet, refreshing treat.
Offer fruits and veggies for snacks- they contain water and are nutritious too! Good choices include watermelon, grapes, oranges, and cucumbers.
So, beat the heat this summer by making it fun for the kids to stay hydrated and remember, Fruits & Veggies—More Matters®.
Vice President of Consumer Affairs